CVIDS 2018 Garden Tour - July 14th
This year, our tour took us to the beautiful gardens of Diane Derganz (Maquoketa), Pete and Pat Connolly (Bellevue), and Sara Hankemeier (Miles). These hosts kindly provided introductions to their gardens (see below). We are endebted to our garden hosts, to Diane Derganz for making lunch arrangements and taking reservations, to Joyce Parsons for calling roll, to
Spruce Harbor Inn for their delicious lunch, and to Lyle Moen for providing the following photographs.

The Garden of Diane and Larry Derganz
Welcome to our garden for the 2018 CVIDS Garden Tour! We've lived in our home near the center of Maquoketa for 45 years. We have an average-sized yard and would describe my garden as having a little bit of everything but lots of daylilies and hosta. I really got interested in hosta in 1992 and have continued to stick them wherever I could. There are about 150 varieties from dwarf to a few really large ones. After I ran out of shade, I began acquiring daylilies, which I've planted in a former vegetable garden in my back yard. Each year I'd cut out more vegetables and plant new daylilies. I now have about 200 daylily varieties around my yard as well as several Oriental and Asiatic lilies. I have a special little area, which I call my 'Halloween Garden' as the plants have names associated with that holiday.

We look forward to your visit on July 14. Our garden will be open at 9:30 a.m. until about 10:30 a.m. with some refreshments, water, juice, fruit and rolls.

Diane


| | |
| --- | --- |
| | |
| | |
| | Photo to left: Halloween Garden |

The Garden of Pete and Pat Connolly
First, we want to welcome you to our garden! Second, I'd like to tell you a little bit about us and our love of daylilies. We lived in Meridian, Mississippi, from 1999–2014. In the fall of 2001, we went to a club plant sale and bought six daylilies. The next month we joined the local daylily club and we later joined the Hattiesburg Area Daylily Society (HADS), which, in January of this year, became a Gold-Level AHS Daylily City. At one time, we grew more than 600 cultivars in our AHS Display Garden. I was fortunate to have a great mentor, Earl Watts, who taught me how to grow and select cultivars. Jeff Salter taught the Garden Judges class and he emphasized the importance of a strong plant, strong scapes, good bud count and increase. Over the years I have tried to adopt all of those principles in my daylily selections.

In 2015, Pat and I moved "back home" to Bellevue, Iowa, where we currently grow about 275 daylilies. Our garden is located on a high windy hill with poor clay soil, so we need strong plants. However, with compost and fertilizer, we are able to grow nice plants. In early spring I apply a slow-release 16-4-10 GRACO fertilizer and after I get scapes, I apply Miracle Grow Bloom Buster until the bloom begins. I also like to apply alfalfa pellets when I am planting a new plant.

My favorite flowers are large and extra-large bloomers. I don't care for spiders, as so many look alike. I like to see a cultivar that is distinct and unusual. Over the years, some of our best plants have come from small hybridizers, so you will see plants that you probably haven't seen before. I won't buy single fans, as they don't increase very fast. Besides, there are too many good plants that are available as double fans from other sources.

In closing, I would say that we have met many nice people through daylilies. CVIDS is a great club and many people make that possible. See you in July.

Pete and Pat

Special Note: One lucky tour attendee will receive a free double fan of his/her choice from Pete and Pat's garden, excluding our CVIDS Club Plants.

The Garden of Sara and Marv Hankemeier
M&S Farms stands for Marv and Sara. Although some people really believe the S is for Sadie, the German Shepherd dog, who was Marv's constant sidekick when the farm was "named." At any rate, the farm is where my Dad was born and raised. The original house burned when he was a baby and the current house was built in the same spot. My Dad and Mom took over the farm and raised turkeys. Brooder houses lined the south lawn where my vegetable garden is now. The current patio started out as a cement slab for the walk-in freezer for the dressed turkeys. My start in gardening came in the vegetable garden, which at that time was between the house and turkey houses.

I have to credit my initial interest in gardening to Leora. My dad's mother died when he was young and Leora came and helped his aunt raise the 5 kids. Leora took on the task of raising the second generation (me at 2-years old) when my mother passed away. Planting, weeding, canning, and freezing were all jobs Leora took on with me at her side. There were few flowers as the priority on the farm was raising food.

Marv and I took over the farm when we married, but lived a mile south of Miles. When my stepmother moved to Northeast Iowa in 1984, we moved onto the home place and I was again living in the house where I grew up, and our daughter, Dorice, took over what used to be my bedroom. We tilled up the grass so I could bring back the vegetable garden. I added a few flowers right south of the house. Over the years the vegetable garden got smaller and the flower bed got bigger and bigger.

My start with daylilies came when Diane Derganz shared several of her plants with me. All daylily enthusiasts know how that story goes. A few years later, she asked if I would join a daylily club with her so she would have someone to share the ride to the meetings. And that's how we got started in CVIDS. What an eye opener for me. I never knew there were so many daylilies or that there were people so dedicated to daylilies. After seeing the variety and beautiful flowers of CVIDS members, I have started revamping my garden. Like most gardens, that will forever be a work in progress. There just isn't room for every plant, so I am taking advice I was given and hope to focus on flowers that have that "wow factor." Even so, it is hard to send some of the originals to the compost. The original daylily is still there. When I was a toddler, the back yard was fenced. The corner post had a lilac bush and some orange daylilies by it. Sometime when I was in elementary school, the fence, lilac, and daylilies were torn out. The corner post, being too hard to pull out, remained. About ten years ago, I began to notice daylilies would try to come up right next to that post. After mowing them off for several years, I finally decided I should see if they would bloom. It took a couple more years, but they did bloom in the original "road ditch orange" variety. If they have that much determination, I guess they can stay.

Besides my perennial garden, you may also want to take a look at my second-year butterfly garden, my worm composting system, and my potting shed where I raise seedlings for both the vegetable and flowerbeds. As you view my perennials, including the daylilies, be aware you are seeing a garden, which has been challenged this year. My flowerbed has expanded to surround the water well and pump. My husband (wise man) has always warned me that I would come to regret planting around the well if we ever had to pull the pump. I knew the risk, but planted away. May 4, we had to have the pump pulled. I had 24 hours to dig out all the plants in the path the truck would use to get to the pump. May 14, the carpenter came to put new shingles on the garage. As careful as he was, wayward shingles still landed on a few hostas and ferns. Vacations are great, but every gardener knows how things can get away from you when you are gone. I have not one but two 10-day vacations planned between now and the daylily tour. Can anyone say weeds and neglect! Come and enjoy anyway! Looking forward to seeing you July 14.

Sara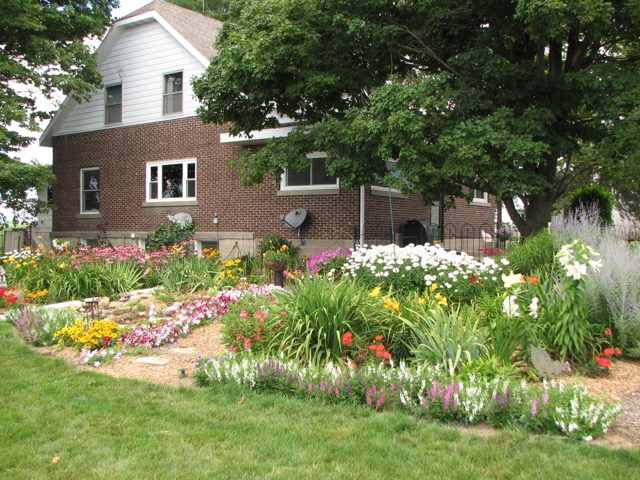 CVIDS' Daylily Exposition - July 7th
Wow, what a successful day for our club! On July 7th, the heat broke, the sun shone, and the daylilies poured in! Twenty-two members traveled from the ends of the earth with their precious cargo to the Quad City Botanical Center (QCBC), arising in the wee hours of the morning and choosing largely unopened buds, hoping that they would open for our first-ever CVIDS Daylily Exposition. And almost all of them did open, totaling more than 400 daylily blooms, filling the categories of Large Flower, Small Flower, Double Flower, and Unusual Form/Spider. More than 150 members of the public toured the exhibition and "Oohed" and "Aahed" at the amazing diversity of Hemerocallis flowers. Two new members, namely Todd and Judy Castro (Clinton, IA), joined CVIDS.

Everyone present was encouraged to complete a ballot form indicating their top two favorites in each of the four categories. The Green Thumbers Nursery (Davenport, IA) had kindly agreed to support our venture by providing a $50 gift certificate for each of the four number one picks. Here are the prizewinners:
| | | |
| --- | --- | --- |
| Large Flower | | |
| | 1st Darrin Lett | 'Cinnamon Sunrise' |
| | 2nd Nancy Carlisle | 'Forever Redeemed' |
| Small Flower | | |
| | 1st Heather Harroun | 'Bumblebee Blitz' |
| | 2nd Nancy Carlisle | 'Root Beer' |
| Double | | |
| | 1st Keith Riewerts | 'Double My Sunshine' |
| | 2nd Darrin Lett | 'Sweetest Cherry' |
| UFO/Spider | | |
| | 1st Heather Harroun | 'Spacecoast Tigertail Tango' |
| | 2nd Nancy Carlisle | 'Braun Witch' |
President Keith Riewerts would also like to thank:
1) those who saved the club $600 by volunteering to weed the QCBC daylily beds last month; Kim Brown, who was still pregnant on that hot day, Dave and Tom Appelquist, Jonathan Poulton, Nancy Carlisle, Bob Towler, Frank and Mary Ancell, and Sally Riewerts (and himself!).

2) those who helped set up the facility on Friday, Nancy Carlisle and grand-daughter Haley and Sally R.

3) all those who brought flowers and attended on Saturday: Sylvia Seymour, Nancy Carlisle, Lynne Kirkman, Steve Parsons, Joyce Parsons, Keith Riewerts, Sally Riewerts, Brian Thompson, Mary Thompson, Darin Lett, Shelly Lett, Tony Brown, Myrna Hass, Loren Hass, Frank Ancell, Mary Ancell, Sara Hankemeier, Dave Appelquist, Carole Appelquist, Heather Harroun, Jonathan Poulton, Susie Poulton, Cathy Moore, Dave Kramer, Sue Kramer, Bob Towler, Deb Bentley and new member Jessica Kelley. (Keith hopes he didn't miss anyone).
4) Nancy Carlisle for ballot construction and printing

5) those who set up and helped Nancy C. with the balloting and counting the votes; Tony Brown, Joyce Parsons.

6) all those who helped with the clean up; Nancy Carlisle, Jonathan and Susie Poulton, Bob Towler, Dave Appelquist, Sally Riewerts.

7) Andy Kay for all his support of the venture.
In turn, President Keith should also be thanked for providing a movie and a set of instructions to help bloom donors get prepared for the show. Please click here to access his movie. It may take some time to download, so please be patient!

Workday Fun at the QC Botanical Center - May 26th
As discussed at recent meetings, CVIDS will hold its first annual Daylily Exhibition at the QC Botanical Center in Rock Island on July 7th. To help reduce our expenses, the QCBC requested that CVIDS volunteers assist the Center by weeding the daylily and iris beds. This took place on Saturday, May 26th, from 8 AM until 11:30 AM. CVIDS President Keith Riewerts and the QCBC Head Gardener would like to thank the following volunteers for their fine work: Frank & Mary Ancell, Dave & Tom Appelquist, Kim Brown, Nancy Carlisle, Jonathan Poulton, Sally Riewerts, and Bob Towler. Thank you, Keith, for weeding and providing the photos. Keith is pleased to relay to you the good news that, because of our workday efforts, the QCBC will provide us a room for our July 7th Daylily Exhibition at no charge, saving the club $600.
| | |
| --- | --- |
| | |
| | |
| --- | --- |
| | |
Club Plant Distribution & Auctions - May 19th
I'm sure that I'm not mistaken when I say that everyone departed Floral Hall with big smiles on their faces! Over 150 daylily plants and 45 iris plants found new homes via the plant distribution, auctions, and silent bidding. Our thanks should go to Jackie Westhoff, Diann Pavelka and LeAnn Pisarik for selecting so many beautiful plants on our behalf, keeping track of their orders, and providing us with updated PowerPoint presentations and master lists in the weeks leading up to May 19th. An overview of the latter can be accessed here. We should also thank the very efficient team at the front of the Hall, namely Keith Riewerts (auctioneer), Bob Papenhausen (lottery czar and comedy king), Heather Harroun, Sue Kramer, and Jo Lynn Johnson (record keepers). Last but not least were three plant distributors (Jan Rogers, Darrin Lett and Shelly Lett) and photographer Nancy Rash, to whom we are also extremely grateful. What a marvelous team!

The purchased irises were divided into three different groups. The Siberian and Japanese iris were auctioned, while the Hidden Springs iris found new owners via Silent Bid sheets. Please note that the Joni's Dance in the Wind iris will be auctioned at the Monticello meeting in August. More details will be posted about these cultivars later this summer.


CVIDS Public Spring Sale - May 12th
Our spring plant sale took place on Saturday, May 12th, at Muscatine's Environmental Learning Center under less than optimal weather conditions. It was cloudy, cold (52 degs high), and at times rainy too. Nevertheless, an excellent showing of club members came well-bundled-up for the sale, bringing plenty of daylilies, iris, hostas, and other perennials. By noon, there wasn't a single plant left! Heather will report next Saturday on the financial aspects of the sale. Below are several photos taken by Lyle. A big Thank You to the Muscatine Garden Club and Muscatine Master Gardeners for inviting us to co-host the sale and to all who attended, donated plants, provided refreshments, bought plants, or photographed the event.


Sad News
I am very sorry to relay to you that club member Rex McCreight passed away on May 10th at the age of 71. His wife Barbara and the McCreight family are in our thoughts and prayers. Funeral services will be held on Tuesday, May 15th, at 11 AM at the Christian Free Lutheran Church in Wheatland. Visitation will be held from 9-10:45 AM at the church. Rex's obituary can be accessed here. We shall greatly miss him.


Bob Moore Passes Away
It is with much sadness that I must relay to you that longtime CVIDS member and club treasurer Bob Moore of Morning Sun, IA, passed away on April 12th at the age of 76. Bob's funeral ceremony took place on April 17th at the First United Presbyterian Church in Morning Sun. His obituary can be accessed here. Bob will be greatly missed. On behalf of CVIDS, I'd like to extend our condolences to his wife Cathy and their family.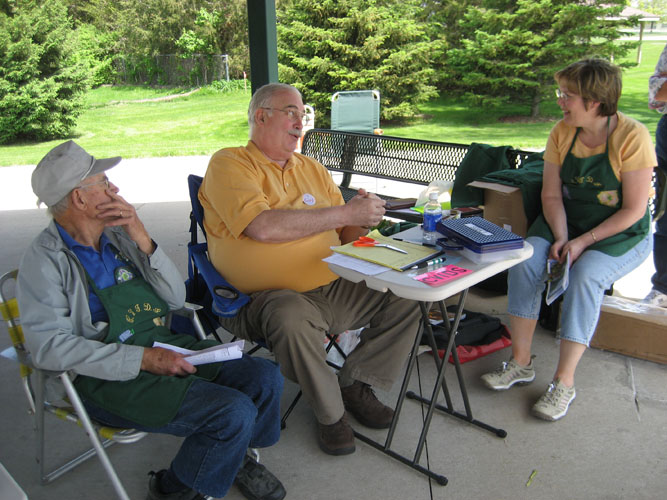 Plenty of Exciting Daylilies and Iris at our April 14th Club Meeting!
The April 2018 club meeting took place at the Washington County Conservation Education Center at Marr Park near Ainsworth. After a delicious potluck lunch, President Keith Riewerts called upon members with last names beginning M-Z to tell us about their favorite/best 2017 daylilies. Then, Diann Pavelka gave us a presentation of the irises that she's ordering on our behalf. The meeting concluded with Jackie Westhoff's presentation of the 2018 Club daylily plants. A big Thank You goes to Jackie, Diann and LeeAnn Pisarik for assembling the PowerPoint presentations. Plant lists will be posted in a few days. Meeting minutes, kindly recorded by Nancy Rash, can be accessed here. Thanks, Lyle, for the super photos.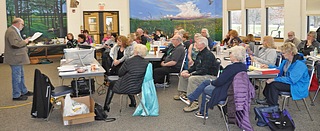 Saying Farewell to an Iowa Gentleman
It is with great sadness that I must share with you that our friend Lee Pickles (Chattanooga Daylilies, Hixson, TN) passed away at the age of 82 on Saturday, April 7th. I first met Lee and his wife Jean at several Pollen Dabbers meetings in Marshalltown, IA, where I joined other members of the audience "oohing and aahing" at his wonderful daylily seedlings, especially his red ones. When we went out for lunch, we would join Lee as he made a bee-line for the Maid-Rite downtown to order his beloved loose meat sandwiches.
After I had tried my hand at hybridizing for a few years, I plucked up courage and sent Lee an e-mail asking him to review some of the seedlings I'd produced and tell me whether I was headed in the right direction or not. I anxiously opened his return e-mail only to find that he hadn't directly answered my question but instead wrote the following advice: "Jonathan, let me share with you the same advice that my mentor Doc Branch told me when I began hybridizing. He told me to go out and buy the most expensive daylilies that you can afford and use them as the parents in your hybridizing program, because, if you start with old faces, you'll only end up with old faces". To sweeten the pot, he asked me whether I might be interested in receiving some of his extra seeds. Now, who in their right mind would ever say "No" to that kind offer? I gladly said "Yes" and, within a few weeks, I was planting several hundreds of his gifted seeds. Furthermore, I took to heart his sage advice and bought the most expensive and "bluest" daylilies that my budget allowed and then went to work trying to create a better "blue" cultivar. While I have as yet been pretty unsuccessful in meeting that goal, Lee's seeds gave rise to some absolutely wonderful offspring. I decided that the one that I loved the best should be introduced in Lee's honor as 'Made Right'. After receiving Lee's permission, we introduced it in 2017. When I'll look at that lily in the years to come, I shall be reminded of the wonderful person, kind friend, and excellent mentor that Lee Pickles was. He will be greatly missed by so many folks including myself.
| | |
| --- | --- |
| | |
| | |
| --- | --- |
| Lee Pickles - June 2016 (courtesy, Facebook) | H. 'Made Right' (Pickles-Poulton, 2017) |
Nebraska Daylily Society Releases its 2018 Yearbook
To help you get through the last few days of this winter, how about thumbing through a book full of beautiful daylily photos and learning what another AHS Region One club has been up to recently? The Nebraska Daylily Society (NDS) is pleased to make the latest edition (2018; Vol. XXXII) available to you all. Click here and enjoy! Many congratulations to the NDS members on another fabulous edition.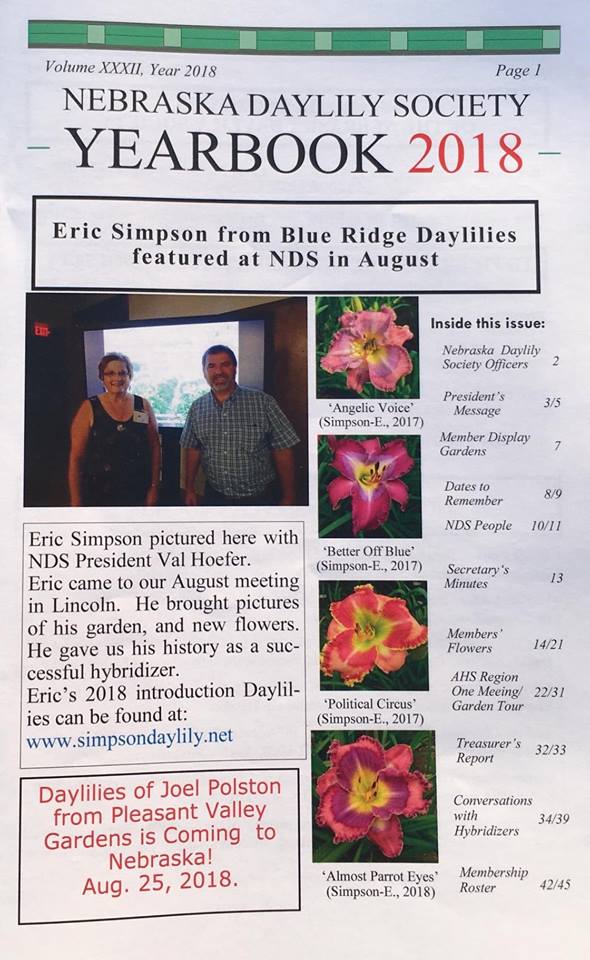 2018 Pollen Dabbers
The 2018 Pollen Dabbers was held on March 16th-17th in the auditorium of the Fisher Community Center in Marshalltown, IA. About 35 persons attended the meeting, coming (in challenging road conditions) from Iowa, Minnesota, Nebraska, South Dakota, Wisconsin, and Ontario, Canada. In summary, this was an excellent meeting, complete with great presentations, countless photos of beautiful daylily creations, humorful banter between attendees, and more refreshments than one could possibly eat in 24 hours! On Friday evening, CIDS hybridizers brought us up to date on their latest marvels. The hybridizers' reports continued on Saturday morning and, after a delicious lunch, early afternoon. The meeting concluded with a splendid and informative talk from guest speaker Dave Mussar (Hillside Daylilies, Ontario, Canada) followed by a plant auction. By the time that the meeting ended, the sun was out, most of the snow had melted, and car travel heading home was far easier than our arrival on the previous night!

| | |
| --- | --- |
| | |
| | |
| --- | --- |
| Nebraska Daylily Society members | Dave Mussar |
Thanks and Kudos to Sam McCord
On behalf of the many CVIDS members who have gladly received his garden markers as door prizes, I'd like to thank Sam for his generous donations to our club. In a recent e-mail, Sam noted that his markers are being used for the tour gardens and convention for the 2018 AHS National Convention, which is hosted by the Georgetown Area Daylily Club. Furthermore, the Brookgreen Gardens have also purchased his markers for the tours that will be held during the convention. Kudos, Sam, we are delighted for you!
March Meeting was a Double Thumbs-up!

Our March club Meeting was held on Saturday, March 10th, at St. Mary's Catholic Church Parish Hall in Williamsburg, IA. All aspects of the gathering were fabulous, starting with the social hour and sumptuous potluck lunch, then a round-table discussion about members' favorite/best 2017 daylilies, and finally, the highlight of the day, a very interesting, colorful, and informative presentation by Callie Wiebold about "Monarch Butterflies". As earlier predicted by your webmaster, it was a lot of fun as President Keith guided the 40 or so attendees (including three youngsters Lily, Rowan and Levi) through the afternoon's events. It was agreed that we should all meet again on Saturday, April 14th, at Washington County Conservation Education Center, Marr Park, Ainsworth, IA to continue the fun!
Thanks, Lyle, for the meeting photos. The meeting minutes may be viewed here.
Thanks, Susie!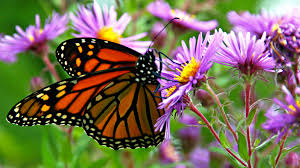 Reporting on our February 17th Club Meeting

It took me longer than expected to reach Discovery Park in Muscatine because of light snow and fog. As I turned off the highway onto the road leading back to the Environmental Learning Center, I noticed that there was only one set of tracks in the snow and wondered whether only Keith Riewerts and I would be attending the meeting that day! But I needn't have worried because, on entering the meeting room, I found four tables of my daylily friends chatting happily and eyeing the refreshment table! There was no shortage of delicious food. Despite snow in the forecast, about 35-40 members attended the meeting and were asked to comment on their favorite gardening tool; these ranged from clump splitters to a can of beer! Then club president Keith Riewerts showed us some photos taken during his recent vacation with Sally in Florida, followed by an excellent and informative presentation on cell phone photography. Thanks to those who contributed to the potluck and donated door prizes. It was wonderful to see everyone there and catch up on their news. The meeting minutes are available here.
Thank you, Nancy Rash!
Click here to see additional photos.


2018 Dues are Past Due!
If you haven't already paid them, 2018 club dues are due on April 1st. The cost is $10 per person. No family memberships are available this year. Please send your dues to Susan Poulton (729 Alpine Drive, Iowa City, IA 52245) or pay her at any of the spring meetings. I have updated the membership form, which can be accessed by clicking here. Please note that, if your dues aren't paid by April 1st, your name will be removed from our membership list and you will lose eligibility to receive a club plant in May.

CVIDS Kicks Off a New Year!
Our first club meeting took place at the Coralville Public Library on Saturday, January 13th, with approximately 30 members in attendance. Following a delicious potluck lunch, the main meeting began at 1 PM with AHS Region One President Zora Ronan giving us a fine Powerpoint presentation about the AHS 2017 award winners. (Check back soon to view this presentation). Thereafter, our club VP Joyce Parsons presided over a short business meeting. Thanks to Lyle Moen, we have a few photos taken at the meeting. The meeting minutes are available here.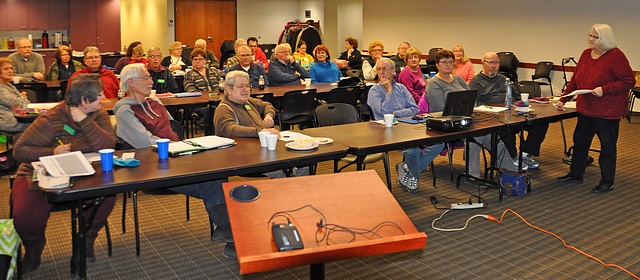 Club Photo Gallery Third Edition Now Being Distributed
The 3rd edition of our "Meet the Members" photo gallery was printed in January 2017 and distributed at club meetings last year. If you haven't yet picked up your copy from Jonathan, please do so at your earliest convenience. This 16-page brochure is an excellent way of putting names with faces.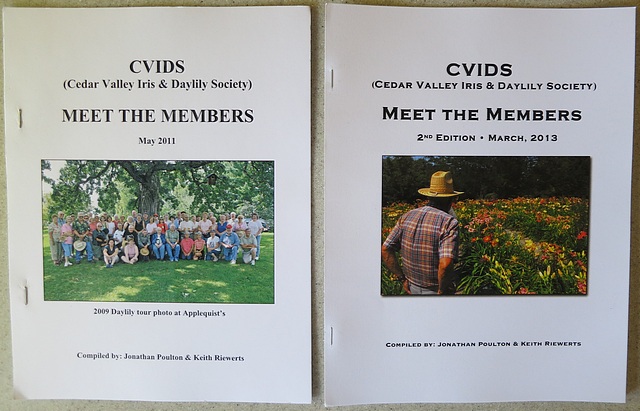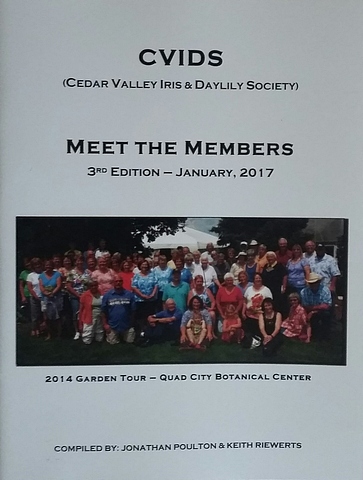 Volunteers Needed for 2018 and Beyond
A big "Thank you" is extended to those members who signed up to volunteer at club events during 2017, but now we are on the lookout for volunteers for 2018 and beyond! Please sign up at the Spring club meetings or contact Keith Riewerts directly! Many hands make light work. Thank you!
Consider Contributing to the Newsletter or Website
Travel is the next best thing to gardening. If you find yourself visiting a garden this spring or summer, why not take a few pictures and write a short story about it to share with the club? We would love to publish your story in the Newsletter and/or on the website. Contact persons: Nancy Carlisle, Jonathan Poulton

CVIDS has its own Facebook Page!
In 2014, CVIDS decided to enter the world of Facebook, thanks to the behind-the-scenes work of Diann Pavelka. In the past two years, 45 folks have become members of the CVIDS Facebook gang. Maybe you'd like to participate in the fun? If you are already a Facebook user, please paste in the following URL:
https://www.facebook.com/groups/704051526282058/
If you are not, go ahead and create a Facebook account and then come join us.