The 2019 CVIDS Fall Banquet
The annual Banquet started at noon on Saturday, November 9th, at the Radisson Hotel and Conference Center, in Coralville, IA. A social time with coffee had already begun at 11 AM, allowing members to chat and to view and vote for the entries in this year's Betty Miller Photo Contest. Seventy-five people attended the Banquet, and five had already submitted photos to Mary Jo Duffy for the photo contest. The buffet meal was delicious. On the menu were: Roast Beef Jardinière & Pecan Crusted Pork Loin, Honey Glazed Carrots, Steamed Broccoli, Twice Baked Potatoes, Fresh Fruit Display & Caesar Salad, Chocolate Mousse,Water, Iced Tea, & Coffee.
For many years now, CVIDS has had the tradition of inviting renowned daylily hybridizers to be the banquet speaker. This year's speaker was Phil Korth (Pinewood Gardens, Suamico, WI), who was accompanied by his wife and fellow hybridizer Luella. Phil gave a fabulous presentation of their many creations. He explained how they have focused on dormants for maximum hardiness against our Midwestern winter elements and have introduced both diploid and tetraploid cultivars. You are recommended to visit their website and enjoy their beautiful contributions to daylily diversity. Have your checkbook ready!
After Phil's presentation, there was an auction of several Pinewood Garden cultivars followed by a brief business meeting led by President Nancy Rash. Joyce Parsons and Susie Poulton were elected to second two-year terms as Vice President and Secretary, respectively. (Please note however that, because Susie and Jonathan will be moving to Colorado next summer, CVIDS will soon be looking for someone to replace Susie as Secretary. If you are interested to serve in that capacity, please contact Nancy Rash). The winners of the photo contest, bucket raffle and door prizes were announced. Nancy Rash thanked everyone who had organized and helped run this year's Fall Banquet, thereby making it a great success. On behalf of CVIDS, Lyle and Nancy thanked Jonathan for serving as webmaster since 2008. In his response, Jonathan expressed his gratitude to the entire membership for their friendship over the years and said how much he and Susie will miss them all. The business meeting minutes will be posted here in a few days. Many thanks should go to Lyle for providing the above photos and to Susie for taking the business meeting minutes.
The 2019 Betty Miller Photo Contest
Our annual Photo Contest was started in 2006 in honor of Past President and hybridizer Betty Miller. She had a passion for photographing daylilies and mentored several CVIDS members on how to take good photos. Her photos were featured in "Eureka" and daylily catalogs from 2001-2004. Five CVIDS members submitted photos to this year's competition, and the winners in each of the ten categories and well as the Grand Prize were announced by Mary Jo Duffy after the banquet meal. Click here to see the winners! Thank you, Mary Jo, for organizing this year's contest.

Celebration of Life for Joanne Ancell
We recently learned that Joanne Ancell, the mother of CVIDS member Frank Ancell, passed away in Fairfield on June 25th, 2019, at the age of 81. A Celebration of Life will be held at 2-4 PM on Sunday, November 10th, at the Fairfield Community Center (Senior Center). Her obituary can be accessed here. On behalf of CVIDS, I'd like to offer Frank and Mary and their family our heartfelt condolences.

The 2020 Region One Regional Meeting
This event will be hosted by the Cedar Valley Iris & Daylily Society and will take place on July 10-12th at The Hotel - Kirkwood Center, Kirkwood Community College, 7725 Kirkwood Boulevard SW, Cedar Rapids, IA 52404. Please take a moment right now to put it on your calendar! The featured speaker will be Mike Grossmann (and Kathleen Nordstrom) from Northern Lights Daylilies (20 Concord Street, West Concord, MN 55985; northernlightsdaylilies.com).

Tour Gardens:
1. Darrin and Shelly Lett, West Branch, Iowa
2. Emil Rinderspacher, Iowa City, Iowa
3. Dave & Sue Kramer, Cedar Rapids, Iowa
4. Wanda Lunn, Cedar Rapids, Iowa

Contact:
Keith Riewerts, 2020 Regional Chair
310 Eastwood Dr., Long Grove, IA 52756
Phone: (563)-940-1895 E-mail: RKRKRKR@netins.net

Plant Donations:
Live Auction: 2016 or newer named varieties
Bargain Table: Notable daylilies with pedigree
Silent Auction Items: Garden Art, tools,

Plant Recipient:
Rex Raub
P.O. Box 155, 305 Sherman
Dysart, IA 52224

You may remember that CVIDS hosted the 2012 Region One Regional at Kirkwood Community College, which was described as a wonderful hotel and facility for our event. We are planning for the same or even better at the same location this year (and there's no extra tax on hotel rooms!). Our accommodations, tour gardens, open gardens, featured speakers and planned activities are looking great. We anticipate having many wonderful opportunities for attendees to learn, to visit and experience the hospitality and sharing of other lovers of daylilies. We shall also offer the ADS Garden Judges Workshop II. For those interested in participating, please contact AHS Region One Garden Judges Liaison Mary Baker at: maryskbaker@gmail.com. The registration form is being finalized and will be available on line soon.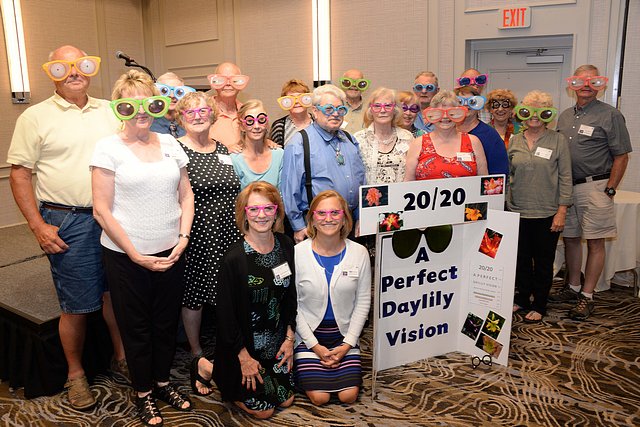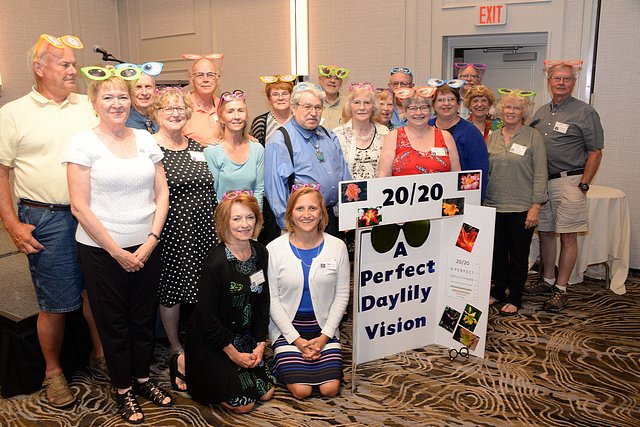 Of course, we couldn't conclude the 2019 Regional Meeting in Omaha without - no pun intended - getting everyone excited about the next one. And so it was that our CVIDS gang caught everyone's attention there by donning spectacles and inviting everyone to the 2020 Regional in Cedar Rapids. I think that we made the theme "20-20, A Perfect Daylily Vision", pretty obvious, while having lots of fun in doing so! (Webmaster's note: You know, I hate when I make a spectacle of myself, but on this occasion it seemed to be for a worthy cause! I'm hiding third from the left!).
CVIDS November Newsletter is Now Out!
An e-mail landed in Jonathan's mailbox yesterday. It was from Nancy Rash (Newsletter Co-Editor - Serious) and Lyle Moen (Newsletter Co-Editor - Fun stuff) to say that the November Newsletter was ready for viewing. Jonathan sent it to the membership this morning (October 22nd), but it can also be viewed here. Enjoy! Thank you to our editors!
Review of CVIDS' 2019 Hybridizers' Roundup
The 9th Annual Hybridizers' Roundup took place at 1 PM on October 12th at the Cedar County Extension Office in Tipton. It was preceded at 11 AM by a 2020 Regional organizational meeting and at noon by our potluck lunch and social hour. After the Roundup, a short business meeting was led by President Nancy Rash. Thirty-six members attended the meeting including new member Lyn Hafner (Iowa City). It was great to see Loren and Myrna Hass back amongst us again. Seven CVIDS hybridizers showed us their latest seedlings and introductions. Their presentations can be viewed by clicking on the names below. Many thanks to the hybridizers for sharing their creations with us! The business meeting minutes, which require ratification at the November Banquet, can be accessed here.

Jonathan's note of explanation: In my talk (which may take a little time to load), you'll see photos of the house that Susie and I are buying in Fort Collins, CO. If all goes well, closing will be on October 30th. We will greatly miss our CVIDS friends but are very excited (and nervous!) about the new step in our life that we are about to take. As is typical of Colorado homes, we will not have a large garden nor will we have the quarter-acre plot that Joe and Mary-Jo Duffy have kindly lent us for the past decade. So, from the approx. 1,300 daylilies that we have in Iowa, we shall have to dramatically downsize! I estimate that we shall have room in our Colorado garden for only 35 lilies at the most. Clearly, I shall take my 10 introductions but how can I select the other 25 lilies? My talk introduces its viewers to six different groups of lilies from which I must make my final choices. In Spring 2020, there will be many lilies looking for new homes. If you might be interested to have some at no cost, please contact me and let me know how many you'd like. Thank you!

Lyle and Nancy Have Been Busy Again!
Please click here to access the September 2019 Newsletter produced by Co-Editors Lyle Moen and Nancy Rash. This Newsletter has already been sent to all members having e-mail access. It was accompanied by an overview of the monies generated by the Silent and Live Auctions of daylilies, the Live Auction of irises, and the Fall Plant Sale (open to the public) that took place on August 24th. If for some reason you didn't receive that e-mail, please contact Jonathan. Those members not having e-mail access will be receiving these documents in the week beginning on Labor Day. Thank you, Nancy and Lyle, for the September Newsletter! Great photos, Lyle!
Please say "Welcome (back)"!
This month, CVIDS gained a new member from Iowa City, namely Lyn Hoversten Hafner. We look forward to meeting her at upcoming meetings. Returning to our club is Bev Witmer of Vinton, IA. Glad to have you back amongst us, Bev! We missed you!
New CVIDS Webmaster has been Identified!
The quest for a new CVIDS webmaster has finally borne fruit! Jonathan is delighted to announce that Mary Jo Duffy has kindly agreed to take over this task as of January 1st, 2020. Since 2008, when his son Christopher introduced him to website construction, Jonathan has had lots of fun trying to stay ahead of club news and changing technologies but he is now relieved to hand over the reins to Mary Jo, an expert in IT. Thank you, Mary Jo!

Invitation to Region One Hybridizers
The Cedar Valley Iris & Daylily Society will be hosting the 2020 Regional in Cedar Rapids, Iowa. We will have places to display registered guest plants and also seedlings being considered for Junior Citation awards. We would be delighted to display your plants. The gardens available for displaying guest plants will be the gardens of Shelly & Darrin Lett and Sue & Dave Kramer. For those of you who would like to have your introductions and seedlings on display for the 2020 Regional, we would like to receive the plants ASAP so they will be well established for the 2020 bloom season. Please contact Sue Kramer if you are planning to participate. Her contact information is: 319-396-3429, E-mail: iowala@aol.com. Thank you!

Minutes of August 24th, 2019 Board Meeting and Business Meeting
CVIDS' August Newsletter has Rolled off the Presses
Nancy and Lyle continue their hard work at the computer, for which we are extremely grateful. Please click here to access their August Newsletter that provides important information about the many activities taking place on August 24th at the Jones County Extension Service Building in Monticello, IA.

CVIDS' July Newsletter Supplement Now Available
Lyle and Nancy have been busy again! Please click here to access a supplement to the July Newsletter, in which they provide excellent photos from the recent Regional and National AHS Meetings and welcome four new CVIDS members Rosemary & Phil Bormann (Bode, IA) and Jamie & Cal Christensen (Emmetsburg, IA). Thank you, Nancy and Lyle, for this colorful and entertaining special edition.

2019 CVIDS Open Gardens
Because both the AHS Regional Summer Meeting and the AHS National were going to be held in the Midwest, our club made a decision not to hold its usual tour of Summer Gardens. Instead, the club encouraged CVIDS members to open up their gardens during the bloom season for CVIDS members to tour on specific days in July to be decided by the garden owners. No fewer than eight gardens were made available on specific dates. On behalf of everyone who took advantage of these opportunities, I'd like to thank the gardens' owners for making this possible. They are:
Lynn & Sherry Moffit
Heather Harroun
Tom & Linda Jones
Gary Oster
Barbara McCreight
Ginger Preuss

Jackie Westhoff
Doug & Sara Kelley
If you are interested to view photos taken at the Regional in Omaha, please visit the AHS Region One website (www.ahsregion1.org).

CVIDS' July Newsletter has been Published
Please click here to access the July Newsletter. Many thanks go to our editors Nancy Rash and Lyle Moen.
Welcome to CVIDS!
I'd like to take this moment to welcome two new members. They are Bruce and Becky Whitaker of Keosauqua, IA. I have encouraged them to attend some Open Gardens and introduce themselves to other members. Please give them that warm CVIDS welcome that you gave me in 2006, when I attended an event for the first time. I still remember meeting Bob Papenhausen then! Do I have to say more?! :)
Clay Dawson Memorial Celebration
As you know, Clay Dawson passed away on December 20th, 2018, at the age of 84. Clay and his wife Kathleen were CVIDS members from 2002 until 2016, and Clay served as club president during 2008-2009. For many years, Clay and Kathleen's beautiful garden was one of AHS' National Display Gardens. We miss him tremendously. On June 29th, a Memorial Celebration of his life was held at Eldridge United Methodist Church. Many CVIDS members were in attendance including Keith Riewerts who provided a moving account of this wonderful occasion.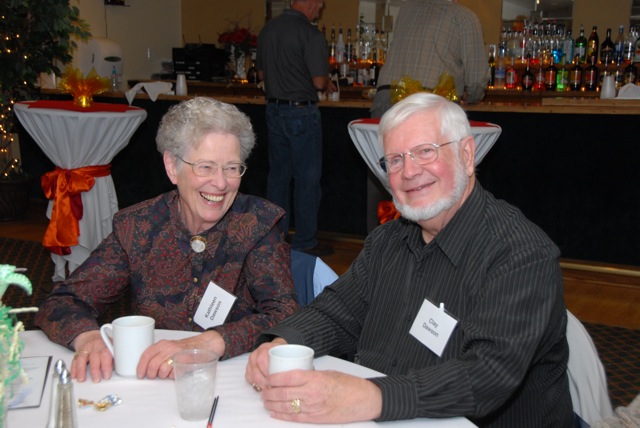 CVIDS' June Newsletter has been Published
Please click here to access the June Newsletter. Many thanks go to our editors Nancy Rash and Lyle Moen.

Monkey Survey Data Now Available
We are grateful to the 44 club members who completed the Monkey Survey, thereby providing us some very useful information about how members value and utilize our CVIDS website, newsletters, "Meet the Members" photo gallery, etc.. To access the results of this survey, please click here.

Quick Review of 2019 Club Plant Distribution & Auctions
Please visit Page 3 of the June Newsletter for a great description of all the activities that transpired on May 17th and 18th to make this year's Club Plant Distribution & Auctions a huge success. Please click here to access to which new home each plant went! Thanks, Heather, for this list and thanks, Lyle, for the super photos.

The Daylily Community Loses CVIDS Charter Member Gerald Hobbs
It is with the utmost sadness that I must inform you that our good friend Gerald Hobbs passed away on Saturday, May 18th, at the age of 90. The Hobbs family met with friends on Tuesday, May 21st, at the King-Lynk Funeral Home and Crematory in Fort Madison, where a Celebration of Life was held. Gerald was buried in Oakland Cemetery. His obituary can be accessed here. A memorial has been established in his memory, and online condolences may be left at: www.kinglynk.com.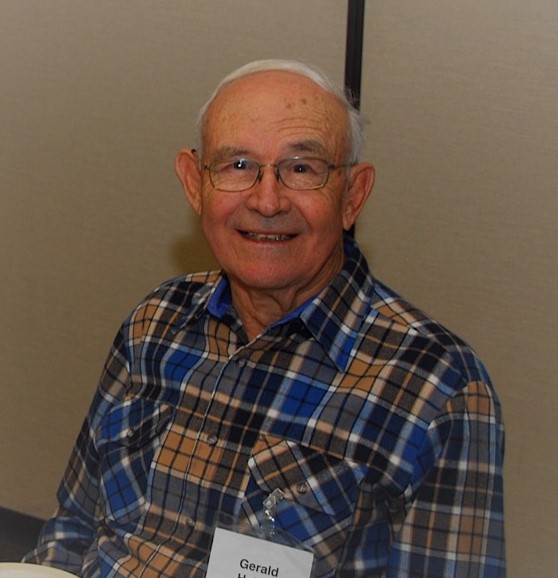 In recent years, daylily cultivation played a major part in Gerald's life. He was a charter member of the Cedar Valley Iris & Daylily Society, which he helped found in 1990. Gerald will be greatly missed not only by CVIDS members but also by daylily enthusiasts in the Midwest and nationwide. He was a prolific and gifted daylily hybridizer, registering over 50 new varieties that can be viewed at the American Hemerocallis Daylily Database. A wonderful and kind gentleman, Gerald was always happy to share his expertise with others. On behalf of CVIDS, I extend our sincere condolences to the Hobbs Family.

Review of CVIDS Spring Public Plant Sale
Our club's Spring Public Plant Sale took place on Saturday, May 11th, in the Discovery Park Pavilion of Muscatine Environmental Learning Center, Muscatine. Members were asked to bring daylilies, other plants, garden tools, garden clothing, etc. to sell at this sale. Set-up began at 8:00 AM, and the sale ran from 9:00 AM until almost noon. The Muscatine Garden Club and the Muscatine County Master Gardeners also sold plants, and the local 4-H club had a bake sale, provising coffee, hot chocolate, and a wide range of cookies. Despite the cool, damp weather, 32 CVIDS members were in attendance, and all the plants on the CVIDS tables were sold. Thanks go to Lyle for providing these photos. Three new members joined CVIDS. From Muscatine, they are Deb Howard, Karl Thielman and Ada Whitworth. Welcome aboard! We look forward to getting to know them at future club events.

CVIDS' May Newsletter has been Published
Please click here to access the May Newsletter. Many thanks go to our editors Nancy Rash and Lyle Moen.
Welcome to CVIDS!
On behalf of the entire membership, I'd like to welcome eight new members to CVIDS. They are Cindy Bottrell (Bettendorf), Jerry Eckrich (Camanche), Trisha Elliott (Camanche), Betty Fyffe (Muscatine), Dale Johnson (Vinton), Sara Kelley (Central City, IA), Lori Marshall (Iowa City, IA) and Sylvia Popelka (Cedar Rapids, IA). Please introduce yourselves to them at upcoming meetings.

Fifty-two Members Attended our CVIDS' April Meeting in Washington!
Our April CVIDS meeting was held on a beautiful sunny day at Washington Public Library on Saturday, April 13th. Fifty-two members were in attendance. Before our social hour and potluck, Keith Riewerts circulated a list of volunteers for the 2020 Regional Meeting that CVIDS is hosting. For more details, please see the post below. Many thanks to all who contributed to a delicious lunch.

| | |
| --- | --- |
| | |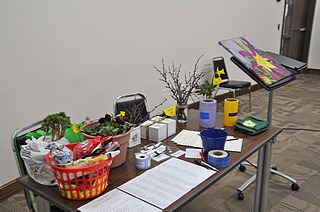 After President Nancy Rash's words of welcome to new and longtime club members, Diann Pavelka and Barb Papenhausen gave us PowerPoint presentations of the fabulous iris and daylily club plants that they have ordered on our behalf. Keith Riewerts and Diane Derganz then talked on "My CVIDS Club Plants: Caring for the Most Important Plants in my Garden". Topics included best locations for daylily growth, how to plant lilies, watering, how to dig daylilies and wash roots, and evaluating daylilies. A short business meeting concluded the afternoon's proceedings. The meeting minutes can be accessed here. Thanks for the photos, Lyle.
In July 2020, it's CVIDS' Turn.......
......to host the Summer Regional Meeting for Region One of the American Hemerocallis Society (now known as the American Daylily Society. Yes, that name change snuck on me too!). The last time we did that was in 2012. Our slogan for next year's meeting will be "2020 - A Perfect Daylily Vision". Keith Riewerts and Nancy Rash have agreed to serve as Chair. What has become abundantly clear is that a tremendous amount of planning and hard work goes into organizing a first-rate Regional Meeting. Many volunteers have already signed on to help with various aspects of this event - thank you so much for doing so - but Keith is looking for additional CVIDS volunteers to help spread the load a bit. Please take a look at the current list and, if you find a task that is right up your alley, please contact Keith and offer to volunteer. Thank you for considering this plea for help.

CIDS 2019 Schedule of Events
The Central Iowa Daylily Society has just released its 2019 meeting schedule. I noticed that two of our CVIDS members will be speaking in Marshalltown this year. Please note that Pollen Dabbers has been moved to the fall this year and will take place on September 13th-14th. Always a very fun and informative event!
April 2019 CVIDS Newsletter
If you'd like to access the April 2019 Newsletter, please click here. Thank you, Nancy and Lyle!

Shirley Waters Passes Away
I am sorry to inform you that longtime CVIDS member Shirley Waters of Moline, IL, passed away on Monday, March 25th, at the age of 70. Funeral services were held on Friday, March 29th, at Holy Cross Lutheran Church, Moline, and she was buried at the National Cemetery, Rock Island Arsenal. Memorials may be made to the church. Shirley was a keen daylily enthusiast and always great fun to be around. She was a CVIDS member during 2003-2017. Her obituary can be accessed here. We shall miss her.

Shirley Waters (photo courtesy of Keith Riewerts)
Our CVIDS' March Meeting in a Nutshell!
This meeting took place on Saturday, March 9th, at the parish hall of St. Mary's Catholic Church in Williamsburg. Twenty-seven members attended. At 11 am, Keith Riewerts hosted the second of our 2020 Regional Organizational Meetings. Next came the potluck lunch and social hour. At 1 PM, Keith presented a 15-minute talk titled "Looking Ahead to the 2020 Regional" and then came the main event, a talk by Sue Kramer on "Spring Bulbs". Click here to access her presentation. Thank you, Sue, for being our speaker that day.

| | |
| --- | --- |
| | |
The afternoon concluded with a short business meeting. Meeting minutes can be accessed here. Thanks, Lyle, for the photos.

March 2019 CVIDS Newsletter
If you'd like to access the March 2019 Newsletter, click here. Thank you, Nancy and Lyle!

What Happened in Eldridge Doesn't Just Have to Stay in Eldridge.........Here's What Really Happened!
Our February CVIDS Meeting took place at the Scott County Library in Eldridge on the 9th! The weather was good for traveling, most of the roads likewise, and 51 souls made it safely to the library. It was wonderful to see everyone and catch up with their news. A special delight was to see Myrna Hass after her several months of sickness.

From 11:15 AM until noon, Keith Riewerts brought volunteers up to speed on what all is involved in organizing the 2020 Region One Summer Meeting. Minutes from this meeting and from the business meeting later in the day can be read here. The next organizational meeting will take place at 11 AM on March 9th.

The lunchtime spread was delicious! Thanks to all who contributed to a super meal.

After lunch, our new club president Nancy Rash invited Jonathan Poulton to deliver a Powerpoint presentation that hopefully encouraged members to register for the 2019 Region One Summer Meeting in Omaha and/or the AHS National Convention in Madison. He has adapted this presentation allowing you to access it here. If you have any questions, please contact him.
The next presentation of the afternoon came from Barb Papenhausen who gave us an Powerpoint overview of the 2019 club plants that she has ordered for us. Just beautiful! She has gone to great lengths to order double fans only and Polar Vortex-proof cultivars! Thank you, Barb! Her Powerpoint presentation is available here. This presentation will be updated as Barb hears back from the last hybridizers.
The final presentation came from Lyle Moen. It featured absolutely stunning photography of Nancy and Lyle's 51-day trip across Canada. Thank you for sharing with us. The afternoon concluded with a short business meeting (for minutes, click here). The afternoon was a fabulous start to our club's 2019 activities, and it was great to see old friends! Hope to see you at our March 9th meeting.

| | | |
| --- | --- | --- |
| | | Photos courtesy of Lyle Moen |

Have you Read the February Newsletter Yet?
The February Newsletter was sent to you last week by email and US mail and has been posted here too. Thank you, Nancy and Lyle, for all your work!

Longtime CVIDS Member Passes Away
On January 16th, Jonathan received word from Lisa Kramer, the daughter of longtime CVIDS member Don Erling, that Don passed away on October 23rd, 2018, at age 85 and was laid to rest on October 27th in Clinton, IA. Don belonged to CVIDS since 2007 and was also a Master Gardener. His obituary can be accessed at Pape Funeral & Cremation Services, Clinton.
Testing our Bad Weather Policy
When our club's bad weather policy was reviewed in the January 2019 Newsletter, little did we think that it would be tested within a matter of a few days! In the days heading up to our January 12th meeting, at which members were looking forward to meeting each other, exchange New Year's greetings, and listen to Nancy and Lyle's presentation about their trip across Canada, weather forecasters were describing dismal and then dangerous driving conditions for that day. After President Nancy and Jonathan had discussed the developing situation, Jonathan sent out a "heads-up" announcement to the membership on Friday evening via e-mail, this website, and our Facebook page. By 7 AM Saturday morning, Iowa City had received about 1-2 inches snow, and there was a winter weather advisory for Johnson County until 9 PM that night with more snow and freezing rain expected. Slippery conditions for driving had been reported, and the warning had been issued that "one shouldn't drive unless one has to". Nancy and Jonathan decided to cancel the meeting. This decision was relayed to the membership by 8 AM via the three mechanisms listed above. In addition, within a short period of time, those members that don't have internet access had been alerted by telephone. Our thanks go to those "internet buddies" who relayed the cancelation news by phone. To our knowledge, everyone who had intended to attend the Iowa City meeting were alerted in good time. Indeed, Jonathan received thanks from one member because the alert reached her before she put her casserole in the oven!

First 2019 Edition of CVIDS Newsletter
A big Thank You goes to our new club president Nancy Rash and co-editor Lyle Moen for penning the January 2019 edition of our CVIDS Newsletter. Here you will find the latest information about our next meetings as well as personal introductions to two of our newest members.