We are delighted to offer meeting registrants the opportunity to visit eleven Open Gardens in eastern and southeastern Iowa. If you are beginning to plan your trip to the Summer Meeting and would like to know the addresses of these gardens as well as their opening times, please contact Keith Riewerts (rkrkrkr@netins.net). This information will also be provided to registrants by email in June.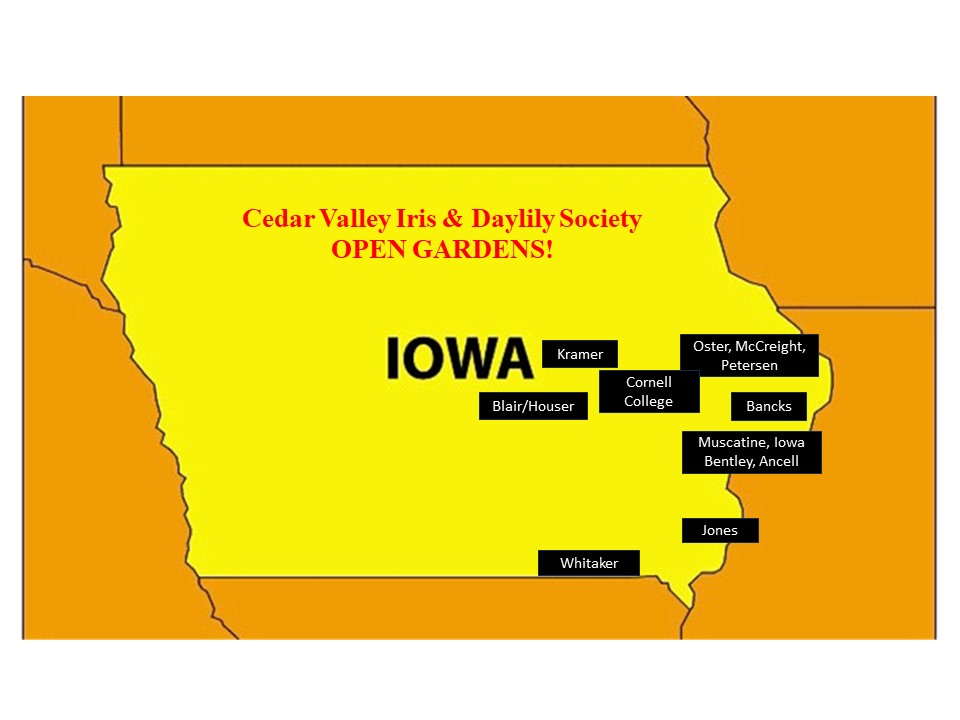 Frank & Mary Ancell (Muscatine County):
Frank and Mary Ancell live on the corner of Cedar and the one-way street of Bartlett. A talented artist, Mary has decorated a fence with colorful flowers and butterflies. In the spring, the bright tulips accent the primary colors of the mural. Frank loves vegetable gardening, and both are involved in the care of the multitude of perennials in their small corner lot. There is something in bloom all season long. Roses, mums, and daylilies are all well tended. Muscatine residents comment on their lovely garden and the joy it brings as they drive on this main street of Muscatine. This is a definite drive-by garden to see the effect of the mural. Be cautious if the neighbor's dog is out; it's not always a friendly soul. You will be able to bid on some of Mary's creative wood carving talents during the silent auction. I know of a flamingo, goldfinch, cardinal, and other native Iowa birds available.

| | |
| --- | --- |
| | |
Jane & Bob Bancks - B & J Gardens (Scott County):
Jane and Bob Bancks moved to the home farm in 1999. The farm was designated a Heritage Farm in 2018. Heritage Farms are recognized as being in the same family for 150 years. The year they moved, Jane started to change the landscape. Before that, it was mainly lawn and a few flowering plants. In the following years, the beds increased in size and number. Today, they have over one hundred species and varieties of species growing. The goal is to have something blooming throughout the season. In the early Spring, crocus, hyacinth, and tulips prevail. Iris, Sweet Williams, and Dane's Rockets in early summer are followed by Shasta Daisies, daylilies, and Queen of the Prairie. In the Fall, New England asters, chrysanthemums, and hardy annuals finish the season. Jane and Bob welcome you to their home to enjoy their labor. They hope you enjoy the plants as much as they do. They recently wrote that they'd undertaken an inventory and discovered that they have 258 perennials growing. Some are duplicates. There 63 hostas, 45 daylilies, 9 iris, and 6 peonies. The rest vary from Dianthus to Buck roses to coneflowers.

Deb & Brian Bentley (Muscatine County):
Brian and I purchased our "first-together" home just outside Muscatine, IA, as newlyweds in March 2012. The 1.5-acre lot was overgrown with several huge elms (which somehow survived Dutch elm), a few oaks, lots of hackberry, locust, and a whole lot of junk trees, shrubs, and only a handful of flowers. Did I mention the entire lot drops down from the road and from neighbors on either side about 30 feet, to an old limestone railroad bridge dated 1902. My first task was to find a spot for all my grandmother's/mother's peonies along with a plethora of sun-loving plants from my former home. This new wooded landscape did not mesh with my strong need for a vivid color palate so I had to seek shade-loving, color-giving plants. And we learned quickly that the rich, black dirt in northern Iowa was something that would need to be purchased and somehow worked into the available hard rock and clay which contained only a smattering of light timber soil. It was also apparent we couldn't water enough, as it quickly slid down toward the bridge. In fact, as there was only an inch or so of "soil" holding the grassy weeds atop the rock, even the turf itself was dropping off in long expanses. The obvious solution was simple terracing which we began on the south side. Eventually, we hired out the grander project that includes stairways and paths on the west. Tons of fill were brought in to level gullies and complete the terraces.
We continue to cull the "unwanteds" and replace them with "desirables" or just open space. I say it's never ending, altho' Brian has another thought about that!!! To date, we have added at least 12 different species of trees, 26 varieties of shrubs (including two producing blueberries) and countless pollinator inviting perennials – such as peonies, daylilies, lilies, iris, mums, heuchera, beebalm, and echinacea. Many of those have been moved at least twice as the available light changes from either tree removal or growth. When we win the Mega Millions Lottery, we are having all of it dug up and set aside while all the gunk is replaced by nutrient-rich, hydrophylic soil. Then plants will be repositioned in an eye-appealing flow in their new happy place! Until then, please enjoy our hodgepodge, somewhat English style, garden beds. Watch your step!

| | |
| --- | --- |
| | |
William Blair and Virginia Houser (Johnson County):
At Bill and Virginia's woodland setting, native limestone walls and pathways configure different levels and shapes for the gardens. Clearings facilitate an overall emphasis on daylilies, with over two hundred historical cultivars registered prior to 1995, more contemporary hybrids, and an active hybridizing program. Other variations in garden types include native, blended native and non-native, and hosta gardens. And there is a small, central prairie restoration for the pollinators. William and Virginia's garden is under consideration to become an ADS National Display Garden.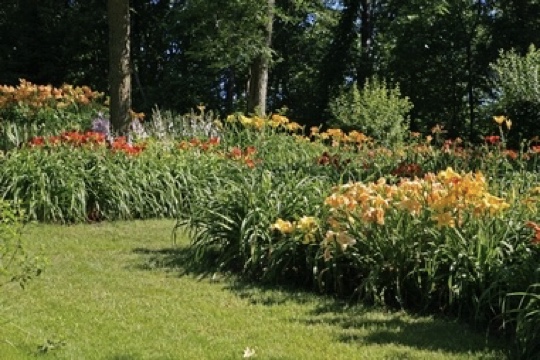 Cornell College, Mount Vernon (Linn County):
Established in 1853, Cornell College sits atop a beautiful hilltop in Mount Vernon, Iowa. Gary Oster, CVIDS member and Cornell graduate (class of 1958), has an important daylily connection with both CVIDS and the college. He donated a 250-plant daylily collection to the college, which now resides along the circular drive going up to the Commons area. They are best seen as you drive on the Old Lincoln Highway (see photo below, courtesy of Cornell College).
Other daylily beds can be seen around the campus. While evaluating his own hybrids, Gary found a purple and white offspring, which he proudly named "Cornell Greater Be Thy Name" for Cornell's colors and Cornell's school song. These plants are being made available to alumni. CVIDS member Jonathan Poulton, who currently resides in Colorado, generously donated some 50 seedlings to Cornell College with naming rights given to the college.

Barbara McCreight (Cedar County):
The McCreight Garden is on a typical city lot. My daylily gardens began small. Then I took over my husband's vegetable garden. He had to purchase another piece of property where he could have a vegetable garden and raise a few chickens. When I pretty much filled up the back yard, we had to make a garden in the front yard. I have approximately 275 registered daylilies throughout the gardens along with other accent plants. My mother gave me my first daylily named "Stella De Oro". Although it has long ago left my garden, it is still a popular daylily for residential and commercial settings. I have been a member of CVIDS for 9 years. Daylily people make wonderful friends; we are blessed with a common denominator. One of my favorite sayings is: "What is the most beautiful daylily? The one you are presently looking at!"

Tom & Linda Jones (Des Moines County):
Here is some information about our yard and garden. We're not fancy but enjoy visitors. Tom counts 214 daylilies. We treasure the 32 that have been hybridized by Gerald Hobbs, who got us interested and shared growing information to get us started in 2007. We also have a big vegetable garden with raised beds, drip irrigation, rain barrels, and a 3-section compost system. We are not organic but try to keep our yard as natural as possible to encourage pollinators. We like many different kinds of perennial and annual flowers and also raise grapes, raspberries, blackberries, rhubarb, apples, etc. Last summer, we were photographed by Our Iowa Magazine and are featured in their June-July 2023 issue as the Prettiest Farm in Iowa. The website link is: http://www.ouriowamagazine.com
| | |
| --- | --- |
| | |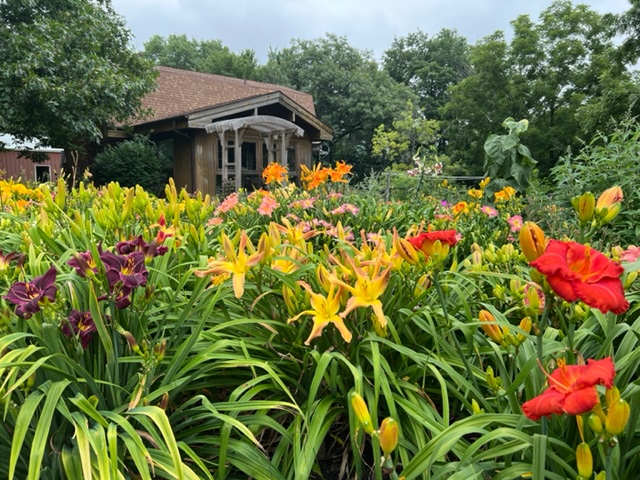 Dave & Sue Kramer (Linn County):
Kramer's Flower Farm Wind Chime Gardens are located in northwest Cedar Rapids. The front gardens are a combination of sun and shade under the canopy of 150- to 200-year-old White Oaks. They lost a number of those oaks during the derecho in 2020 and have been increasing the number of daylilies in front due to the additional sun. Further back on the property, a large field in full sun contains a collection of around 1,000 registered daylilies and several years of seedlings. If there is a breeze, the sound of wind chimes can be heard throughout the gardens.


| | |
| --- | --- |
| | |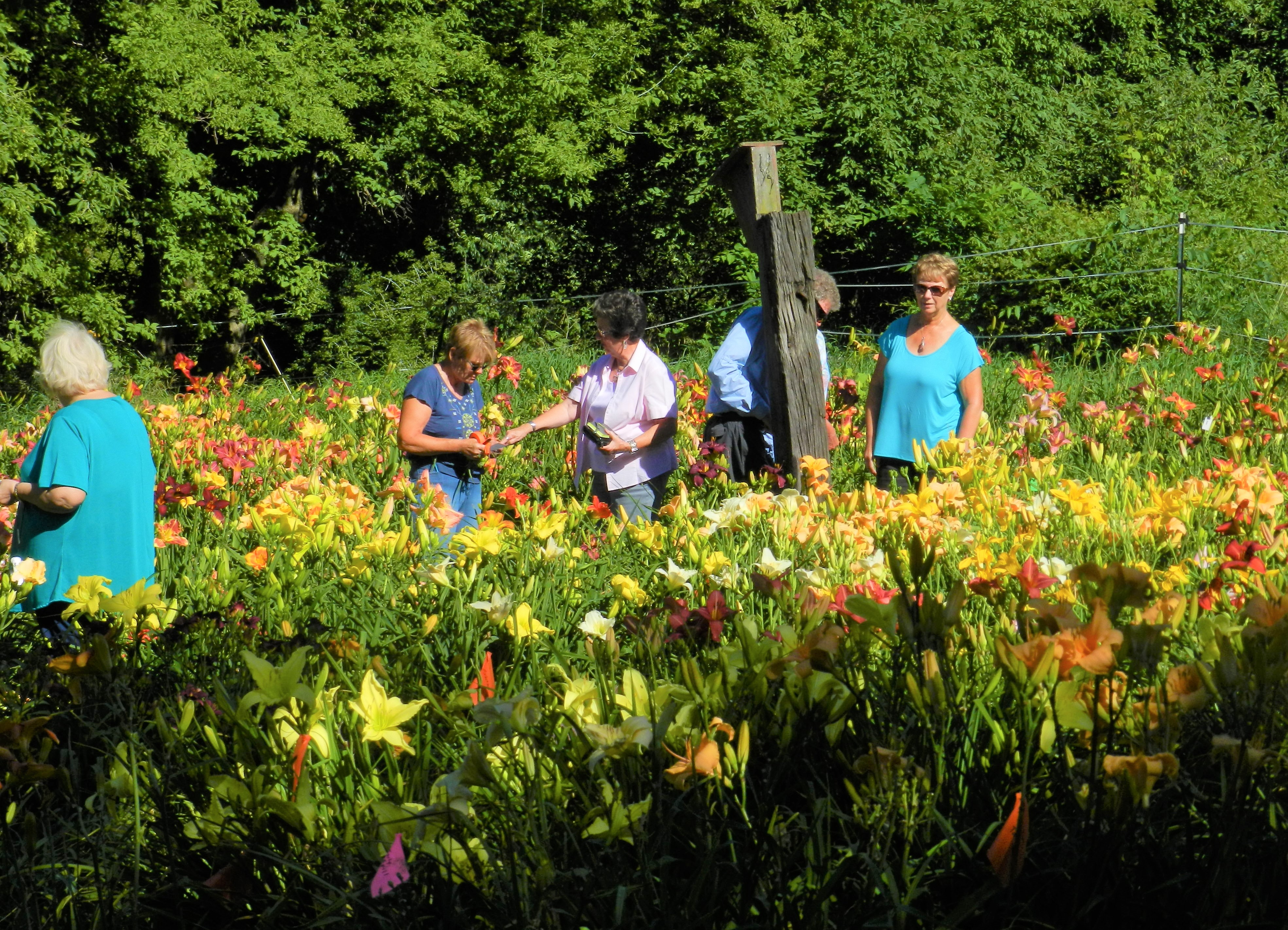 Gary Oster (Cedar County):
I have been involved with gardening from a young age, but not until 1972 did I discover daylilies. I was overwhelmed. A friend gave me 44 plants and, after joining CVIDS in 2008, I have now built my collection to about 600. Even though I have hybridized many daylilies, I have only registered one, named 'Gary's Unstoppable Gold', named by a friend, Jack Jones. Looking forward to sharing my garden with you.


Joyce & Larre Petersen (Cedar County):
A short distance from the gardens of Barb McCreight and Gary Oster, you'll find the garden of Joyce and Larre Petersen. A variety of flowers, daylilies, Asiatic lilies, potted flowers, and beautiful displays grace the Petersen home.

Bruce & Becky Whitaker (Van Buren County):
Bruce and Becky Whitaker's garden features easy to grow and maintain perennials with daylilies the most frequently used plants. Flower season begins in early spring with lentils and ends in late fall with asters and mums. Walkways make for easy viewing and a central pergola for R & R.


If you would like your garden to be added to this list, please contact Nancy Carlisle (njcarlisle56@gmail.com).