2022 Archives
Happy Holidays and All the Best for 2023!

November Fall Banquet Meeting Minutes
Thank you, Cari, for serving as Secretary! Here are her meeting minutes from the Fall Banquet.

CVIDS Fall Banquet Reports
Each year following the CVIDS Fall Banquet, notes are made about the event to be shared with the Club and the CVIDS Board. With permission from our President Darrin, Nancy Rash is hereby providing the report prepared for 2022 including the reports back to 2013. Many thanks to the committee and their long tenure as CVIDS Fall Banquet Co-Chairs. The donations for the raffle and door prizes are appreciated. Thank you for attending and showing your interest and support for the CVIDS Fall Banquet. The Radisson Hotel and Conference Center is a great venue and appreciates our business.

Update on Search for New Club Vice President and Treasurer
At the end of this year, Joyce Parsons and Shelly Lett will be stepping down from their positions as Vice President and Treasurer, respectively. Joyce and Shelly, we thank you so much for your excellent service over the years! We are pleased to announce that at the Fall Banquet Jackie Westhoff was voted in as Treasurer, replacing Shelly Lett, but we are still looking for someone to assume the Vice President position. To learn more about the responsibilities of this role, please access here, then contact President Darrin if you'd like to put your name forward.

From the Fall Banquet Committee:
Thank you to all the members attending the Annual CVIDS Fall Banquet on November 12, 2022. We had a great day with 58 members and guests in attendance. Our speaker, Bret Clement, secured by Keith Riewerts, was informative and fun. We sure liked hearing about how he named the daylilies. A big shout out to members that contributed door prizes and raffle items to make for some fun gifts. A huge thanks to members bidding during the 50/50 auction of markers and daylilies. The funds will be added to our club treasury. The photo contest organized by Heather Harroun had ample entries and beautiful photos. We want to thank you for your attendance and participation in the Fall Banquet that is our celebration of the year. Thanks to Shelly Lett, Treasurer, and Joyce Parsons, Vice President, for serving as officers. We appreciate all their work! Congratulations to Jackie Westhoff for accepting the new position of CVIDS Treasurer.
Co-chairs of the 2022 CVIDS Fall Banquet: Nancy Rash & Lyle Moen, Sherry and Lynn Moffit
Please click on this Bret Clement daylily to view a slideshow of photos taken during the afternoon.

Our thanks go to Lyle Moen and Keith Riewerts for their excellent photography.
Please click on this photo to view the winning photos in the 2022 Betty Miller Photo Contest.

Our thanks go to Heather Harroun for organizing the contest this year.
If you cannot access the winning photos via the above link, or if you'd prefer a more tabulated version of the Contest results, here you are:

2022 Betty Miller Photo Contest Winners
Category 1: Vern Moore Memorial - any red daylily

1st Prize:

Lyn Hafner

2nd Prize:

Sherry Moffitt

Category 2: Gerald Hobbs Memorial - large ruffles

1st Prize:

Jonathan Poulton

2nd Prize:

Sherry Moffit

Category 3: Any daylily bloom that is not a double, unusual form, or spider

1st Prize:

Sherry Moffit

2nd Prize (tie):

Sue Kramer

2nd Prize (tie):

Keith Riewerts

Category 4: Doubles

1st Prize:

Nancy Carlisle

2nd Prize:

Sherry Moffit

Category 5: Unusual forms and spiders

1st Prize:

Sherry Moffit

2nd Prize:

Jackie Westhoff

Category 6: Hybridizers' seedling - no registered flowers

1st Prize (tie):

Barb Papenhausen

1st Prize (tie):

Jonathan Poulton

2nd Prize:

Sherry Moffit

Category 7: Clumps - daylily or iris
1st Prize (tie):

Lyn Hafner

1st Prize (tie):

Gary Oster

2nd Prize:

Sue Kramer

Category 8: Landscapes - must include daylilies or iris

1st Prize:

Sherry Moffit

2nd Prize:

Heather Harroun

Category 9: Novelties - e.g. garden sculptures, animals, etc. Must include daylilies or iris

1st Prize:

Jonathan Poulton

2nd Prize:

Sherry Moffit

Category 10: Iris
1st Prize:

Lyn Hafner

2nd Prize:

Sherry Moffit

Grand Prize:

Jonathan Poulton
The Business Meeting minutes will be posted here in due course.

Fall Banquet Business Meeting Agenda
Please click here for the agenda.

Don't Miss This November 2nd Update Concerning the Fall Banquet!
Hello CVIDS Members! Here is another important Fall Banquet update from the organizing co-chairs. Our featured speaker Bret Clement sent photos of his two 2023 daylily introductions that will be in our 50/50 auction on November 12. They are 'The Cat Ate My Homework' and 'Hobbit Worldview'. Please be considering your choices for the auction!
| | |
| --- | --- |
| The Cat Ate My Homework ($85) | Hobbit Worldview ($125) |
A reminder from our Treasurer: Everything should be paid separately, and exact change is recommended, if paying with cash. Checks are accepted.
Dues: You can pay your 2023 dues, $10 per person.
Raffle Tickets: You may purchase tickets, $2.50 per ticket or 5 for $10. There is a lighted Christmas tree, daylilies from Pat and Pete, a fairy garden, and Much More!
50/50 Auction: See past announcements below for the complete list of daylilies from Bret Clements!
Finally, if you have not sent in your reservation for the banquet, please contact Nancy Rash immediately! Thank you.

The CVIDS Fall Banquet is Two Weeks Away!
Here is an update received from Nancy Rash this morning on behalf of our banquet co-chairs (Nancy Rash and Lyle Moen, and Sherry and Lynn Moffit): "Hello CVIDS Members! The CVIDS Fall Banquet is two weeks away. Thank you to all that have sent a reservation. If you want to attend, please let me know by November 4. Send an email to nrash2000@gmail.com or 319.591.1419.
If you are submitting entries to the Betty Miller Photo Contest, they should be sent to Heather Harroun. The postmark DEADLINE is November 1. The email DEADLINE is November 1. For more information, see earlier post below.
Please let me know if you are an officer nominee for Treasurer or Vice President.
Our speaker is Bret Clement from Clement Daylily Gardens "The Cat's Meow Of Daylilies". He was the winner of Region 2's 2015 Howard Hite Award for hybridizing excellence!

Bret will be donating plants for a 50/50 Auction at the Banquet. You will want to go to his website (http://www.clementgarden.com) to see and read about the daylilies that will be on the auction. This will give you an opportunity to see what beautiful and fun plants will be offered at the Banquet. Pick out plants you would like to buy and come prepared to take home a Bret Clement introduction. The names are creative and fun. I had some laughs just reading through the names of introductions. If you like cats, you will want several daylilies from Bret. Remember, the auction is a fundraiser for our club.
Here are the plants for the 50/50 auction. Prices listed are tentative '23 prices.
The Cat Ate My Homework 85.00
Hobbit Worldview $125.00
Days Of Our Cats $100.00
It Thinks It's A Cat $100.00
Glorious Mysteries $100.00
All Cats Matter $90.00
A Tail of Two Cats $70.00
Beatific Vision $80.00
It Shall Go Nameless $80.00
Here Lies Jimmy Hoffa $45.00
Too Many Cats Spoil The Broth $50.00
Its Lips Are Moving $30.00
Hobbitskin Necktie $25.00
Jean Clement $60.00
Shelter For Homeless Frogs $50.00

Pari Delecto $40.00


The Fall Banquet is the celebration of our club year. Social Hour begins at 11 with voting at the photo contest. There will be a buffet lunch, speaker and auction, door prizes, raffle, business meeting and election of officers. See you on November 12!"

Two Articles That You Shouldn't Miss!
Embedded in the Spring 2021 Edition of ADS Region One's Daylily Pioneer are two articles written by our Past President Nancy Rash that I recommend you read. "Unstoppable" is the first article (pp. 14-15). It describes how Lowden resident Gary Oster, who has been a CVIDS member for almost 15 years now, became hooked on daylilies and went on to plant a beautiful home garden, get involved in hybridization, and establish several extensive daylily gardens at his alma mater Cornell College in Mount Vernon. His first registered cultivar is "Gary's Unstoppable Gold' (Oster, 2017), which incidentally has fared very well in Colorado, lights up our front yard, and has drawn the attention of many passersby. Titled "Memories of Region One Summer Meeting 2015", the second article can be found on p.16 and is a highly amusing account of when Nancy and her sister Peggy Rash-Daniels met for that event. Nancy had known for years that Peggy enjoyed auctions but was surprised and delighted when her sister quickly took to daylilies and went home with a treasure trove of acquisitions! I'll leave you to read about their bandana story! Thank you, Nancy, for two fine articles.

2022 Hybridizers' Roundup Wrapup
If you were unable to attend the recent Hybridizers' Roundup, or if you did attend it but would like to review the Powerpoint presentations from that event, here is your chance! Click on the buttons below:

Many thanks go to: (i) the hybridizers for their hard work in the field and for sharing their creations with us, (ii) to Heather Harroun for organizing this event, and (iii) to Nancy Carlisle for setting up the Zoom that allowed many members to participate from near and afar.

Breaking News!
Keith Riewerts has asked me to inform you that Bret Clement of Clement Daylily Gardens, "The Cat's Meow of Daylilies", will be our featured speaker for our' November 12th Banquet in Coralville, Iowa. More information about these gardens, which are located approximately 45 minutes northwest of Indianapolis in Carmel, Indiana, can be found at: http://www.clementgarden.com

How did Bret, who later received AHS Region 2's 2015 Howard Hite Award for hybridizing excellence, get into daylilies? According to Bret: "All of it started to avoid cutting the grass. I was sick of mowing along his back fence and was searching for something to plant that would require little care. A friend suggested daylilies - the plants were easy, hardy and beautiful. I took the suggestion, placing a few of the plants along the fence-line. "It was a solution to a landscape problem," he said. "Over the course of maybe four or five years, I expanded that to include all of the back fence, and that summer, I realized I created something beautiful by accident."

That initial planting has grown into a colorful and thriving business. Clement is now the owner of Clement Daylily Gardens, which specializes in hybridizing the plants into explosively colorful varieties. He is a long time active member and leader in the American Daylily Society (ADS), serving as General Counsel, Parliamentarian. His presentation will feature his hybridizing program followed by a 50/50 auction of some of his very best daylilies.
Thank you, Keith, for securing Bret to speak at our banquet. Final words of encouragement from Keith: "Bid well!"

Invitation to Annual CVIDS Fall Banquet
Our Fall Banquet will be on November 12, 2022, at the Radisson Hotel and Conference Center, Coralville, Exit 242. The social hour begins at 11 AM with coffee and viewing and voting on the Photo Contests entries. The Buffet Meal will be at Noon followed by a presentation by Bret Clement and a business meeting. The day's activities should adjourn by 3 PM.
Reservations for the Fall Banquet are due to Nancy Rash by 5 PM on Friday, November 4. The cost for guests to attend is $25, payable at the banquet. Please respond to Nancy with "Yes" you will attend or "No" you will not be attending at nrash2000@gmail.com or 319-591-1419. Please hit Reply and not Reply All. All current paid members attend for free. Please consider inviting a spouse, friend or prospective member as your guest.
Members may donate a door prize and/or an item for the raffle. When you send your reservation, also let Nancy know if you are bringing a door prize or raffle item. All members and guests attending will be eligible for the door prizes, and the raffle tickets can be purchased the day of the banquet. Following the speaker presentation, a club meeting will be held to elect new officers for Vice President and Treasurer. Please contact President Darrin Lett to volunteer to be an officer or to be on the nominating committee (Phone: 563-357-2214 or buzzlett@hotmail.com).
Chairpersons for the 2022 CVIDS Fall Banquet are Nancy Rash, Lyle Moen, Sherry Moffit and Lynn Moffit. Heather Harroun volunteered to organize the photo contest. Thank you to Heather and her helpers.

Rules and Procedures for the Betty Miller Photo Contest
Send printed photos, 4 x 6 inches, to Heather Harroun, 11723 238th St. W. Illinois City, Illinois 61259. Images as a jpeg file can be emailed to jhsharroun@outlook.com. The postmark DEADLINE is November 1. The email DEADLINE is November 1. No modifications or enhancements like Photo Shop are allowed. Cropping and centering are allowed. Please include in the email and label photos with Name, Category, and Direction Arrow (arrow up for printed photos) for display orientation. There is a maximum of 2 entries per category per person. Questions may be directed to Heather Harroun at her email or phone: 563-554-0028. This is a short timeline, but we hope you will participate.

PHOTO CONTEST CATEGORIES
1) Vern Moore Memorial - any red daylily.
2) Gerald Hobbs Memorial - large ruffles.
3) Any daylily bloom that is not a double, unusual form, or spider.
4) Doubles.
5) Unusual form and spiders.
6) Hybridizer's seedling - no registered flowers.
7) Clumps - daylily or iris.
8) Landscapes - must include daylilies or iris.
9) Novelties - e.g. garden sculptures, animals, etc. Must include daylilies or iris.
10) Iris.
Thank you and we hope to see you at the Annual CVIDS Fall Banquet on November 12, 2022.

Annual Dues
Dues of $10 per person may be paid at the Fall Banquet. Treasurer Shelly Lett will be available for you to renew your membership.

What's the Latest on the 2023 ADS Region One Summer Meeting in Muscatine, Iowa?
Click here to find out! It's not too early to start planning your summer! Hope to see you there.

Meeting Minutes
Minutes of the June 2022, August 2022 and October 2022 meetings are now available.

CVIDS' Fall Public Plant Sale
Our annual fall plant sale was held in fine weather on August 27 at the Goettch Shelter, Jones County Fairground, in Monticello. Daylilies, iris and other perennials were sold at great savings. Our thanks should go to everyone who donated and bought plants, the Club Plant Return Committee (Diane Derganz, Pat Connelly and Sara Hankemeier), the Silent Auction crew (Deb Bentley, Heather, Diane, Nancy Carlisle, Pat and Pete Connelly, and Steve Parsons), our auctioneer extraordinaire Darrin Lett, the live auction helpers (Shelly Lett, Diane, Heather Harroun, Rex Raub and Dick Palmer), lunch orderers (Shelly and Darrin), photographer (Nancy Rash), and door prize donors (Tom and Linda Jones). Many apologies if I have omitted names of other members who contributed to making the day a huge success.
| | |
| --- | --- |
| | |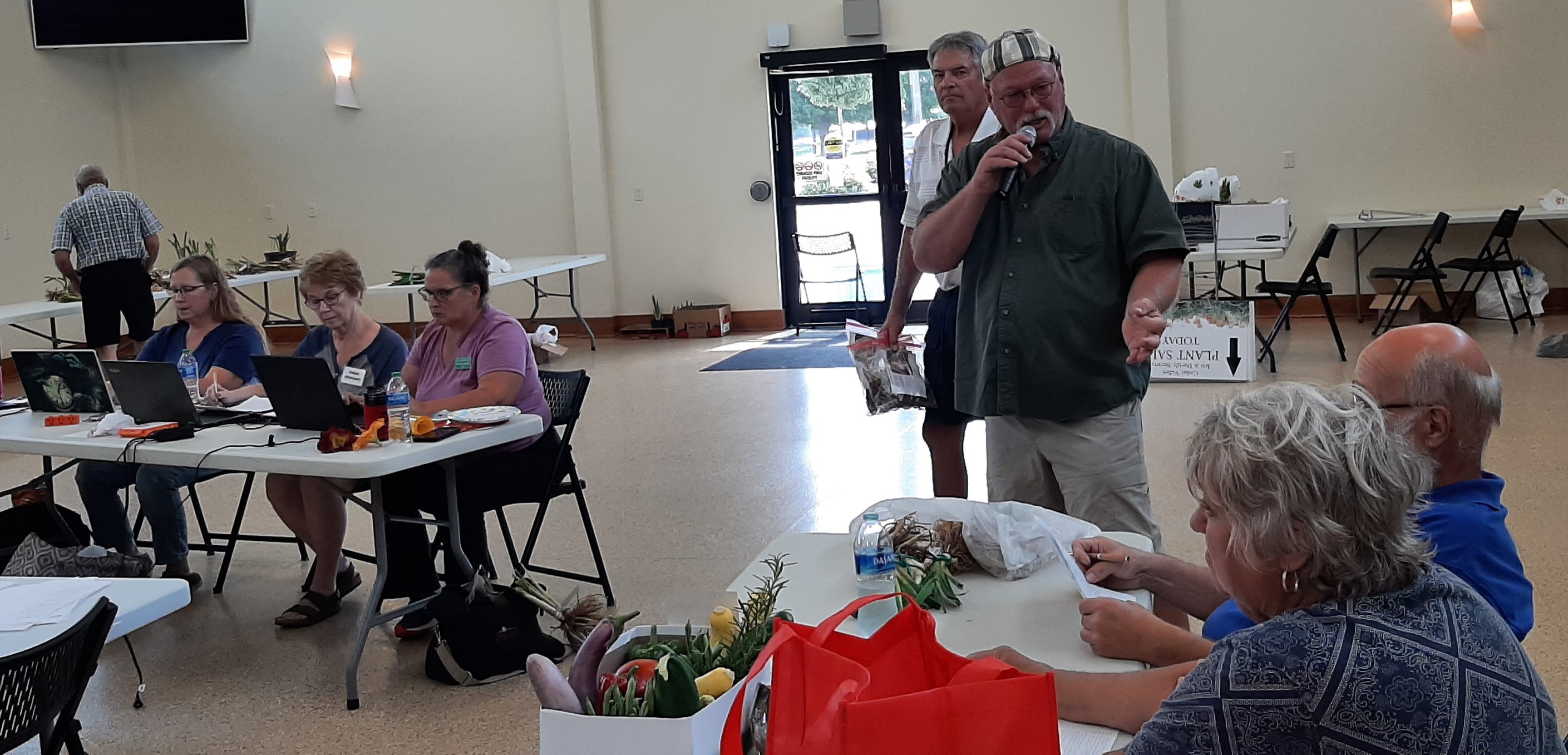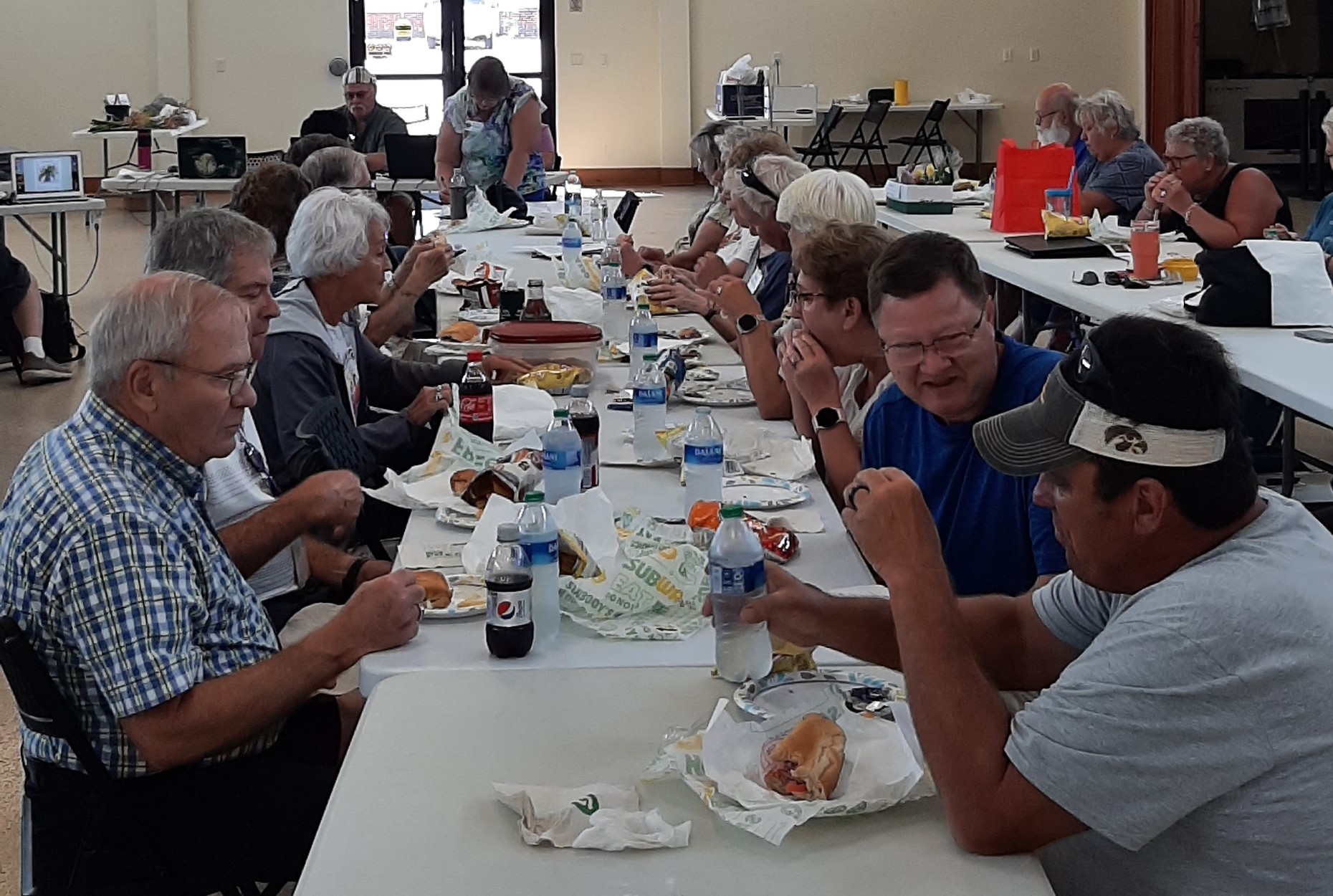 Sharing Sad Tidings
I am extremely sorry to relay that Lyle Moen's son, Richard John Moen, passed away on August 6, 2022, at his home in Buena Vista, Colorado. Rick was diagnosed in December 2021 with anaplastic thyroid cancer, a rare type of cancer that grows quickly and is difficult to treat. Rick was 52 and is survived by his wife Sara and son Caleb. A Celebration of Life will be held at Clearview Community Church in Buena Vista on Saturday, August 27, beginning at 10 AM. His obituary can be accessed here. Condolences can be sent to: Lyle Moen at 1506 N Marion Avenue, Washington, IA 52353 or via email (moen2000@gmail.com).
Please check your inbox for two key emails from Committee Chair Diane Derganz on August 10th. In these, she provides information about the following items:
1) The 2022 Silent Auction: Diane provides Club Plant bid sheets & photos listing those cultivars which club members have nurtured in their gardens for the past 3 years. The bid sheets also contain individual evaluations by the growers as to how their plant performed in their garden. Please submit your bids to Diane Derganz by email or phone (her contact information will not be posted here but is provided in her emails).
Deadline for your bids is 8 pm on Sunday, August 21st, so don't delay! This year, we have many very reasonably priced daylilies, so please support this very important club project!!!
As in the past, we are asking that your bids be in odd amounts (preferably 25 cent increments) to avoid duplicates. You will be notified as soon as possible if you submitted a winning bid. Those with email addresses WILL BE NOTIFIED BY EMAIL ONLY, so please watch your mail. Phone calls will be made to members who do not have an email address. If more fans are returned than stated on the bid sheets, you still may be a successful bidder, so please check with the committee before you leave that morning.
Winners, who will receive the largest double fan of the returned cultivars, must pick up and pay for their plants at the silent auction tables in the Youth Center at the Fairgrounds. If unable to do so personally, they should arrange for a proxy to collect and pay for the plants, letting the chair know of this arrangement. In case of ties, the earliest postmark or email wins.
2) Return of Club Plants: Those members who are bringing back the club plants for the auction are responsible for getting them to Monticello by 10 am that morning. Your returning bare root daylilies should be clearly labeled, with the roots clean and the foliage clipped to about 8 inches. If unable to come yourself, please make alternate arrangements for transport of your plants. Check your daylilies in at the Silent Auction tables just inside the Youth Center doors. Do not leave them there without having your name and plant information recorded. If you have any questions, please contact Diane, who will try to answer your concerns.

ADS Region One 2022 Summer Meeting
Hosted by the Central Iowa Daylily Society, the ADS Region One 2022 Summer Meeting took place in Marshalltown, IA, on July 15-17th. Sporting the title "Back in the Saddle", this was the first regional summer meeting since the pandemic began in 2020. On Friday morning, attendees were offered the opportunity to visit four beautiful open gardens. These were: Kramer's Flower Farm Wind Chime Gardens, The Brannaman Garden, Walkabout Gardens and Timbercreek Gardens. In the afternoon, many activities took place at the Hampton Inn (boutique and silent auction, off-scape flower show, photo exhibit and Region One Board Meeting) and the Marshalltown Community College (Region One hybridizers' slides). The social hour, dinner, and Region One Auction (with Mike Grossman doing a fine job as auctioneer) completed the day's activities.
On Saturday morning, tour buses headed out at 7 am. The 76 meeting attendees were divided between the North and South buses but, by the end of the day, everyone had visited four exquisite gardens (Ginny Geetings Garden, Wilson Gardens, Asher Creek Haven and Husak Gardens). Thanks to timely rains, the daylilies were full of blooms and, speaking now as a Colorado daylily enthusiast, their foliage was "to die for"! The first photo shows the South bus gang at the Husak Gardens. I should mention that the Weather Committee did a fabulous job. It was cool and overcast all day, the latter allowing greater appreciation of bloom colors. Phil Fass was bus captain on the South bus, while the North bus was captained by Deb Deemer.
At 6 pm, the Banquet took place in the Midnight Ballroom and was preceded by a social hour. Thereafter, there was a short Region One Business Meeting at which Keith Reiwerts, supported by 17 other CVIDS members, gave an announcement about the 2023 Region One Summer Meeting to be held in Muscatine, IA. The evening concluded with excellent presentations by guest speakers Margo Reed and Jim Murphy (Woodhenge Gardens, North Garden, VA). A Garden Judges Workshop 2 took place at Prairie Wind Gardens on Sunday morning with Mary Baker as lead instructor and Bertrand Farr Award winner Jim Murphy and Stout Medal winner Nan Ripley assisting.

Our gratitude should go to Phil Fass and other members of CIDS' planning committee for organizing a stellar meeting that has gotten us back in the saddle again after a two-year hiatus. Speaking personally again here, I found it wonderful to return to Region One from Colorado and be able to meet so many fine friends from all over the Region and resume conversations again mid-sentence! I miss having my leg pulled by Bob Papenhausen, but he took advantage of the situation to make up for lost time! Our thanks should also go to Lyle Moen for kindly providing the following photos.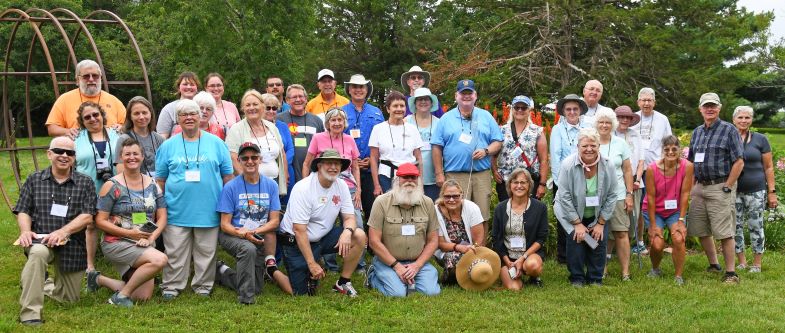 Loss of Larry Derganz
I am saddened to inform you that Larry Derganz, husband of Diane Derganz, passed away on July 6th at the age of 73 after a lengthy battle with cancer. A gathering of family and friends celebrating Larry's life will be held on Monday, July 11, 2022, from 4 -7 PM at Carson Celebration of Life Center (318 West Pleasant Street) in Maquoketa. Larry's obituary can be accessed here.

Date Changed for CVIDS' August Plant Sale and Club Plant Return
Due to the crazy weather that Iowa has experienced this year, our Club's August Plant Sale and Club Plant Return will now take place on August 27th, the last Saturday in August, at Monticello Expo Hall. Diane Derganz will be sending out evaluations for the club plants in the near future. Just a friendly reminder that only returning club plants will be allowed in the silent or live auction. All others will need to be offered in our sale to the public. If anyone has any questions about this, please contact President Darrin.
Karmin Mullins' Mother Recently Passed Away
It is with great sadness that we have learned that Verla Dorlena (Potratz) Mullins, the mother of Karmin Mullins, passed away on Thursday, June 23rd, at the age of 84. The club extends its sympathies to Karmin and her family on their loss. To visit Verla's memorial page to share a memory or send condolences to the family, read the obituary, and find the upcoming events, please access here.

Time to Organize 2022 Open Gardens!
At our last meeting, the subject of having Open Gardens this summer was raised, much to the excitement of many attending. Here is the first offer of an open garden. It comes from Heather Harroun (contact info.: 11723 238th St. W. Illinois City, IL; 11723 238th St. W., Illinois City, IL), who expects peak bloom to be around July 9-10th. Here are the dates for Heather's open gardens:
July 4th: 9AM - Noon

July 9th: 9AM - Noon
July 10th: 1-4 PM
If you would like to visit on a weekday evening, Heather and family would be happy to have you come, but please call ahead to arrange for an evening.
Thank you, Heather, for this marvelous opportunity! Other members who'd like to open up their gardens to visitors this summer are asked to contact Darrin and Jonathan (jonathan-poulton@uiowa.edu).


What's Blooming in Your Garden?
Planting for Pollinators and Butterflies
Our last club meeting took place on Saturday, June 11th, at the residence of Lyn Hoversten Hafner in Iowa City. Our speaker was Mary Bulger, Naturalist for Iowa County Conservation, who gave an excellent illustrated talk on planting for pollinators including butterflies. The meeting was hosted by Joyce Parsons and, for those unable to attend in person, was also accessible via Zoom. Our thanks go to Lyn, Mary, Joyce and Nancy Carlisle for Saturday's meeting.

| | |
| --- | --- |
| | |

A Few Glimpses of Yesterday's Club Plant Distribution (May 21st)
Thirty members attended a well organized and efficient club plant distribution day. Our auctioneer for the day and club president, Darrin Lett, conducted a professional auction that was enjoyed and appreciated by the members. Helpers were Shelley Lett, Heather Harroun, Keith Riewerts and Barb Papenhausen. Judy Raub handed out paddles for bidding. Club plants were distributed by the lottery system run by Barb. This was followed by the auction of daylilies and then the auction of iris. It was a good day, all finished before 11:30 am. Many thanks to Nancy Rash for this meeting report and photos.
Darrin Lett conducting the meeting, assisted by Heather Harroun, Shelley Lett and Barb Papenhausen
| | |
| --- | --- |
| | |
| Club Iris Plants | Club Daylily Plants being distributed by Nancy Carlisle |
| | |
| Who's next up? | Shall we get this one or that one? |
Here's a photo from Keith Riewerts showing the view from the front of all the action:
2022 Club Iris (May 20th)
Our thanks should also go to LeAnn Pisarik, Shelley Lett and Diann Davelka for securing club iris plants for the meeting tomorrow. Click on the list and the Powerpoint for more information.

Updated Version of "By Hybridizer" Listing (May 20th)
Heather has kindly provided an updated version of the "By Hybridizer" listing of the 2022 Club Plants. Please click here for this list in pdf format.

2022 Club Plant Distribution and Live Auction
Our 2022 Club Plant Distribution and Live Auction will take place on Saturday, May 21st, at the Floral Hall, Muscatine County Fairgrounds in West Liberty. Darrin will arrive at 8 a.m. to help set up along with anybody else who can be there that early. The distribution will begin at approximately 9 a.m.
Please check your Monday May 16th emails for one from Heather Harroun. In it, she says: "Hello all, here are the final additions and deletions for the club plant list. The PDF is just the changes. The Excel file has three tabs. One complete listing by Hybridizer, one complete listing by Cultivar, and one listing of just the changes."
For a photographic overview of the entire collection of 2022 Club Plants, please click here. Our thanks go to Barb and Bob Papenhausen for selecting and purchasing these plants and to Heather Harroun for providing the lists and Powerpoint presentations. Lots of work behnd the scenes on our behalf!

We look forward to seeing you on Saturday! Any club members who are not able to attend the plant distribution must notify club treasurer Shelly Lett of who their proxy is before the meeting. Anybody can be your proxy, but you must notify the treasurer.

Get your Plant Donations and Wallets Ready, it's Time for our Spring Plant Sale!
On Saturday May 7th, CVIDS, together with the Muscatine Master Gardeners and the Muscatine Garden Club, will be hosting their Spring Plant Sale at the Muscatine Environmental Learning Center (Discovery Park Pavilion) for members and for the public at large.On Saturday May 7th, CVIDS, together with the Muscatine Master Gardeners and the Muscatine Garden Club, will be hosting their Spring Plant Sale at the Muscatine Environmental Learning Center (Discovery Park Pavilion) for members and for the public at large. The sale will take place from 8 AM until noon, with set-up at 7-8 AM. If you so desire, here are two ways in which you can help. First, we ask that you donate daylilies, iris, other perennials and annuals. Please bring registered, bareroot daylilies of good quality that well represent the wonderful world of daylilies. Label them with the usual information (name, hybridizer, year registered, plant height, bloom size, ploidy, and description). Please try to have at least one photo to go with each cultivar. It works well to have a container bearing the plants and the photo attached to the container. Alternatively, you might like to donate iris. These should also be bareroot and labeled with name, type, bloom season and a photo if possible. Other perennials can be brought in containers, but no woody stemmed things like lilac. Annuals are welcome donations too. It is requested by the Master Gardeners that the minimum price be $5, so we may want to do that for ourselves. Only even dollar amounts, please. The second way in which you can help the effort is to attend the Sale, bringing your wallet, credit card or check book. If you have any questions, please contact Heather Harroun. We hope to see you there!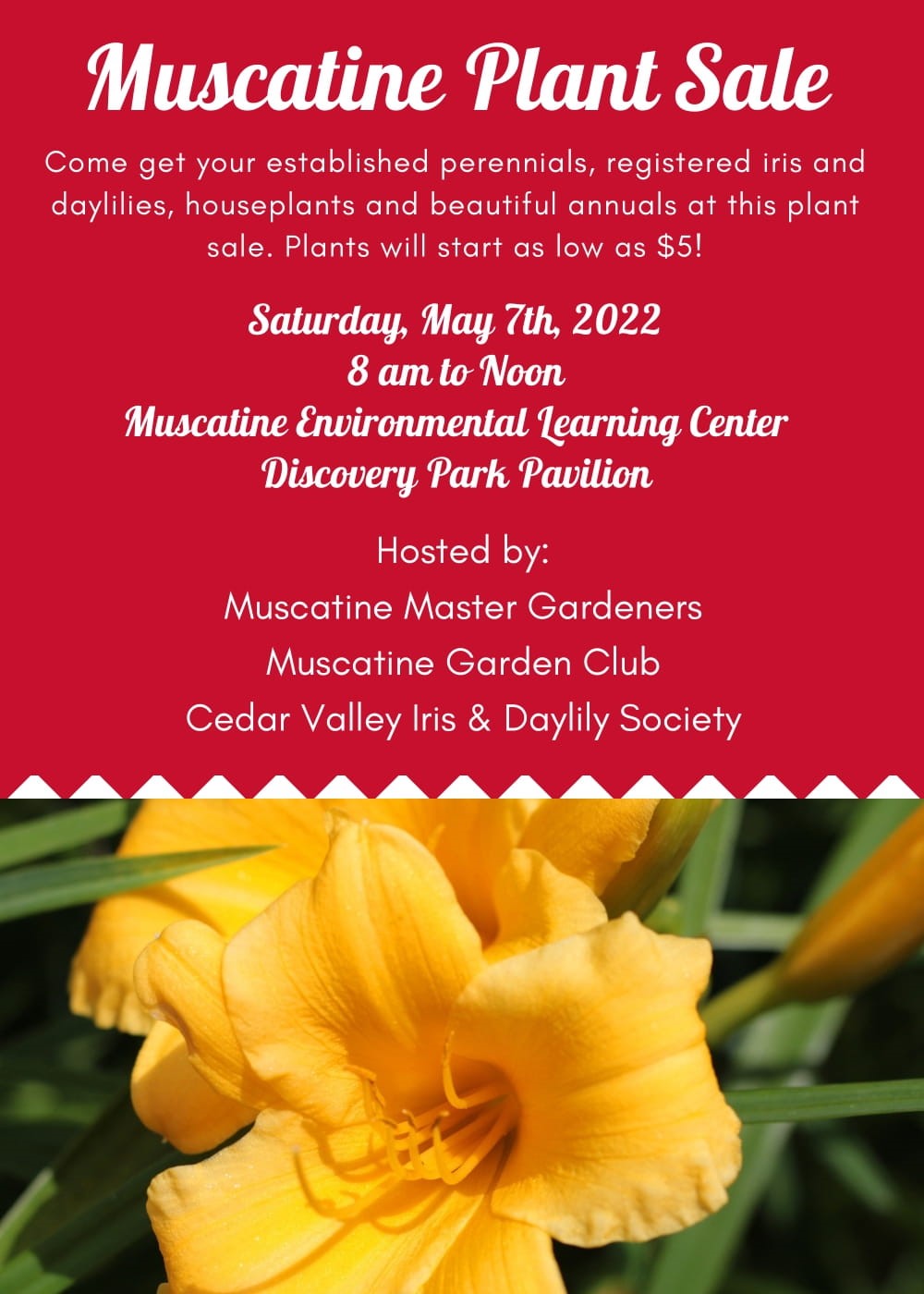 A Quick Review of our April Meeting
Our April club meeting was held on Saturday, April 9th, at the BioVentures Center in Coralville. Eighteen members attended in person, while an additional 16 participated via Zoom. Two Powerpoint presentations were given. Heather Harroun presented an overview of our 2022 club daylily plants, and then Nancy Carlisle's talk focused on iris. Subsequently, Darrin Lett presided over a business meeting.
Here are some documents provided by our speakers for that meeting:
2022 Club Daylily Plants:
(i) Heather's Powerpoint presentation
(ii) A list of these plants and their descriptions
2022 Club Iris Plants:
(i) Nancy's Powerpoint presentation
(ii) Bearded iris identification
(iii) THE HOW TO's Of IRIS
Our many thanks go to: Barb and Bob Papenhausen for procuring the 2022 daylily plants, to Heather for assembling the Powerpoint presentation and compiling her spreadsheet, and to Nancy for procuring the iris and for her talk on those gorgeous plants.
The last item of the day was the business meeting presided over by Darrin Lett. Minutes kindly recorded by Cari Rusnak can be accessed here and will be brought up for approval at the May 21st Club Plant Distribution.

Just a Reminder! Have You Paid Your 2022 Club Dues?
Dues are $10 per person for a one-year membership. From our Bylaws: "Membership dues are for a calendar year and will fall due on January 1st. Dues are considered delinquent after April 1st." We accept dues all year. The April deadline is to qualify for earning a CVIDS Club Plant. If you have not paid dues for 2022, please mail them ASAP to Treasurer Shelly Lett (1673 Garfield Avenue, West Branch, IA 52358). Please make your check payable to: CVIDS. Thank you!

Invitation to an Organizational Meeting via Zoom for the 2023 ADS Region 1 Summer Meeting
As you know, CVIDS is scheduled to host the 2023 ADS Region One Summer Meeting in July 2023. With it being about 16 months away, it seems like a long time, but it will be here before you know it. With this being a major event, it will require everyone in our club to pitch in and help. Club President Darrin is looking for volunteers willing to be on the organizational committee. If you are interested, please respond to him via e-mail, so that he can add you to the list of volunteers. Darrin is inviting you to a Zoom meeting to begin at March 21st at 6:30 PM. The meeting is scheduled for two and a half hours with the first half hour for socializing. Darrin will send out the agenda right before the meeting. The Zoom link can be found in the e-mail that Darrin sent to you today (March 17).

Visitation and Services for Mary Moore
Mary Florence Marie (Willard) Moore, 78, of Springville, Iowa, passed away surrounded by her family on Wednesday, March 16th, 2022, at St. Luke's Hospital in Cedar Rapids, Iowa. Family will greet friends and family from 6:00 to 8:00 p.m. on Sunday, March 20th, 2022, at Murdoch Funeral Home & Cremation Service in Marion, Iowa. A funeral service will be held at 10:30 a.m. on Monday, March 21st, 2022, at Springville United Methodist in Springville, Iowa, conducted by Reverend Guillermo Bongolan. Burial will follow at Wilcox Cemetery in Viola, Iowa. Mary's full obituary may be accessed here. To send flowers or a memorial gift to the family of Mary Moore, please visit here.

| | |
| --- | --- |
| | |
Mary Moore & Caroline Jones, 2015
(photo courtesy of Keith Riewerts)
Loss of CVIDS Charter Member - March 16th, 2022
It is with great sadness that I learned today that our good friend and CVIDS charter member Mary Moore passed away early this morning. Our thoughts are with her son Frank and other family members at this time. Mary and her late husband Verne maintained a beautiful garden in Springville, IA. It was always a great joy to tour the garden with them.

Mary (center) with 2015 Betty Miller Photo Contest co-winners Sylvia Bauguess, Sherry Moffit,
Jonathan Poulton, Nancy Carlisle and Diane Derganz
Updating the Website - A Work in Progress
March 17th: Today, I have posted an archive of club activities in 2020, brought together with much assistance from Nancy and Lyle's Newsletters, Diann's Facebook page, and PowerPoint presentations kindly provided by Heather. Many thanks to all mentioned! Now, I'm turning to all members to help me fill in any gaps, especially with respect to the list of 2020 Board members. If I have omitted anyone or made an error, please understand that it's not by design. Please contact Jonathan (jonathan-poulton@uiowa.edu) with desired revisions or additions. Thank you so much! I am aware that three members passed away in 2020 (Gertrude Pheiffer, Mary McCord, and Robert Little). I extend belated sympathies to their loved ones and will soon be providing photos and links to their obituaries in the In Memoriam pages of this website.

March 2022 CVIDS Meeting
Our March meeting was held on March 12th at St. Mary's Catholic Church Parish Hall in Williamsburg, beginning at noon. After the social hour, the floor was given to our guest speaker Cat Nelson, who gave a presentation on "Bonsai Trees". Nineteen members, including two children, were present in the room, while an additional fifteen participated in the meeting via Zoom. Following the talk, Darrin Lett presided over his first in-person meeting as club president. Meeting minutes can be accessed here. Our thanks should go to Cat Nelson for a fun and informative talk, to Joyce Parsons for scheduling our speaker and booking the meeting hall, to Nancy Carlisle for recording the meeting, allowing folks who were unable to attend to enjoy it, and to Cari Rusnak for volunteering to become club Secretary. A link to Nancy's recording will be available in a few days,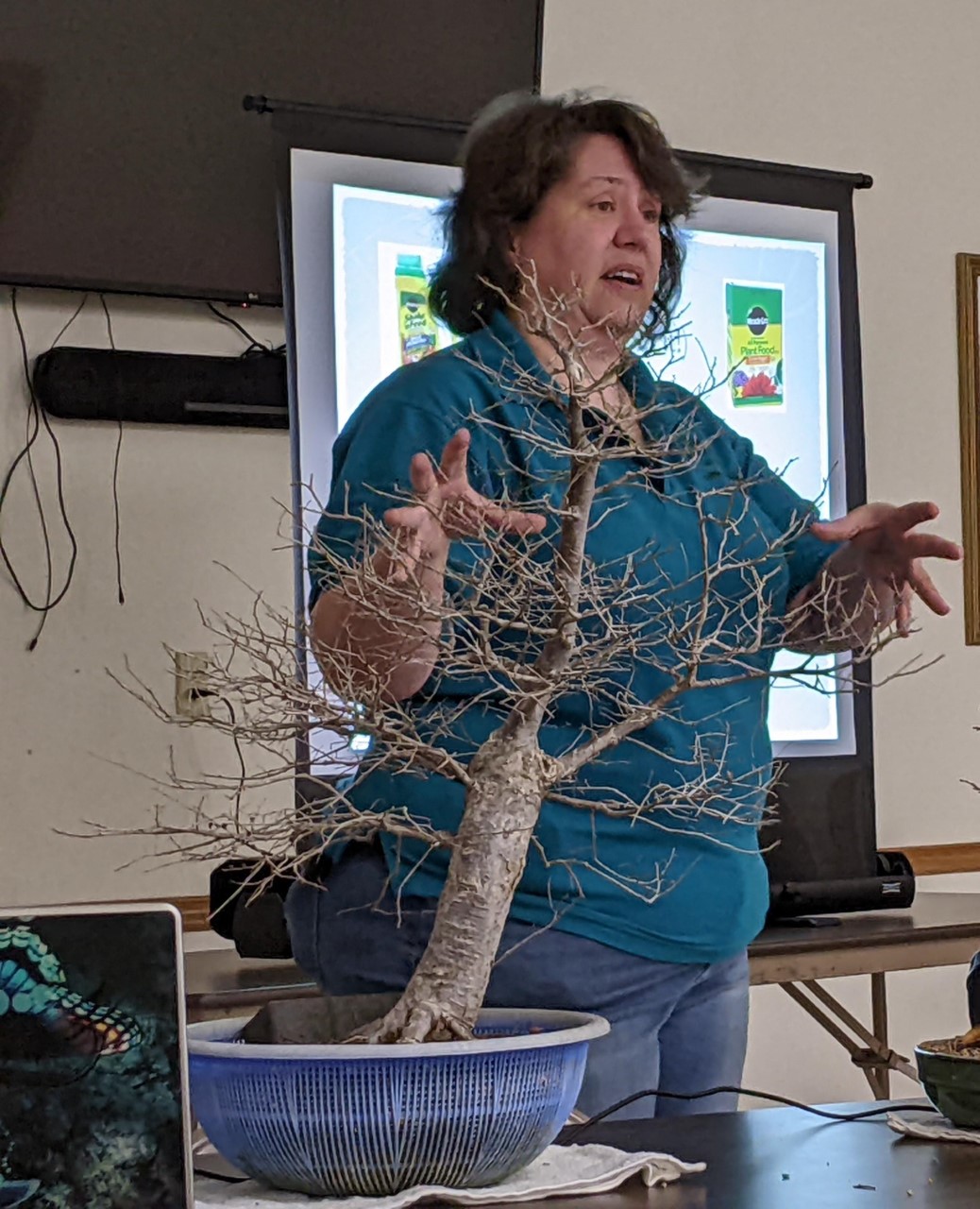 Nothing on your Calendar for July 15-17th?
No? Really? Then take a trip to Marshalltown, IA, and take part in ADS Region One's Summer Regional Meeting! I can promise you beautiful gardens, gorgeous daylilies and companion plants, and lots of fun with old buddies and new friends! Good weather? No, sorry, I can't promise you anything there! :)

CVIDS 2022 Calendar:
A preliminary calendar for our club's 2022 activities is now available.

March 2022 CVIDS Meeting:
Come and join us at our next club meeting to be held on March 12th at St. Mary's Catholic Church Parish Hall in Williamsburg! The social hour will begin at noon, followed at 1 pm by a presentation by guest speaker Cat Nelson on "Bonsai Trees". Subsequently, there will be a short business meeting. Please bring your own refreshments, if you'd like. Looking forward to seeing you there!