Mary Moore & Caroline Jones, 2015
(photo courtesy of Keith Riewerts)
Mary (center) with 2015 Betty Miller Photo Contest co-winners Sylvia Bauguess, Sherry Moffit,
Jonathan Poulton, Nancy Carlisle and Diane Derganz
The Amanas, The University of Iowa and CVIDS Members Mourn the Loss of Lawrence "Larry" Rettig
Jonathan Poulton fondly remembers: "As a young assistant professor at The University of Iowa in the early 1980s, I was always intimidated when, somewhat with cap in hand, I visited the University's Central Administration to plead my case for financial support for my plant biochemistry research program. My nerves were very much calmed by a gentleman by the name of Larry Rettig, whose gentle disposition and kindness helped make these visits far less scary. It doesn't surprise me in the least that Larry ultimately received The University of Iowa Staff Excellence Award and the State Board of Regents Staff Excellence Award. Imagine my surprise and delight when, decades later, Larry joined CVIDS, and we began to learn about his passion for gardening and in particular for daylily cultivation and hybridization! I still vividly remember touring Cottage-in-the-Meadow Gardens in 2017. This was the garden of Larry and his wife Wilma in South Amana. He was a wonderful speaker and guide and enthralled us with stories of their home's history and of his efforts to breed novel daylilies. I was very saddened to learn that Larry passed away on January 4, 2022, at the University of Iowa Rehab, shortly before his 81st birthday". To learn more about this remarkable man, please access his obituary and his presentation at 2017 Hybridizers' Roundup.

Larry introducing some of his daylily creations at our 2017 Hybridizers' Roundup

'Verdant Valley Oranges and Lemons'
(Rettig, 2015)
Robert Towler
Robert J. Towler, of Rock Island, passed away on Friday, July 16, 2021, at UnityPoint Health-Trinity Medical Center, Rock Island, at the age of 87. Condolences may be sent to his wife Dorothy Towler (4232 8th Street, Rock Island, IA 61201). Bob's full obituary may be accessed here. Bob will be greatly missed. CVIDS donated to the Quad City Botanical Center a $25 memorial gift in his name; Bob was so passionate about the activities of this Center.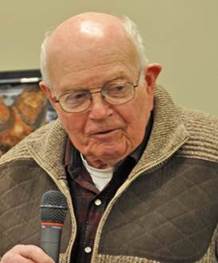 Former CVIDS President Nancy Rash would like to share with us this wonderful story that epitomizes Bob's enthusiasm to share with others his expertise in horticulture and forestry:

"On February 19, 2021, the day after our Zoom presentation for CVIDS in February, I called Bob Towler and we had a long conversation (my phone shows it was 48 minutes and 48 seconds) about numerous subjects including how his wood working group was "zooming" nationally known speakers for his club presentations. Eventually I said I was calling because I was looking for a presentation about trees because of all the tree and landscape damage suffered by CVIDS Members. Then I said, "Will you…" and Bob said "YES" before I even finished the sentence! Bob was so excited to be a presenter and offered that Dave Kramer could team up with him and do the presentation in March. I am sorry if you missed the excellent presentation but, if you look back at the April 2021 CVIDS Newsletter, there is a summary (by Lyle Moen) of the program given by Bob. Dave Kramer had computer issues that night and could not participate. On our walk after Bob's March presentation, Lyle and I scrutinized all the trees along the route. To take advantage of Bob's expertise, I sent a photo in an email message asking for advice about trimming our Sunburst Locust tree. Bob sent back a recommendation and said to think about what would happen it is fell on Lyle's head!!! We will miss Bob's expertise and his participation in CVIDS. It was a CVIDS President's dream to have someone say "yes" before I even finished asking!"

Loren Hass
Loren Hass, 77, of Delmar, Iowa, passed away peacefully on Saturday, January 23, 2021, at the age of 77. Loren was born on January 24, 1943, to Raymond and Dorothy (Petersen) Hass on the family farm in Delmar. He graduated from Welton High School in 1961, and later the University of Northern Iowa with a degree in education. Loren married Myrna Ploog on September 1, 1963, at Grace Lutheran Church in DeWitt. He taught history and coached basketball at Olin High School. He then took over the family farm. While farming, he taught at Scott Community College, and was also the head librarian at the public library in DeWitt for several years. He enjoyed showing purebred Dorset sheep at the state and local fairs. He is survived by his wife, Myrna; children, Rochele Hass of Manteno, Illinois, and Michael (Amie) Hass of Central City; grandchildren, Benjamin, Andrew, and Daniel d'Autremont, and Ellie and Emilie Hass; siblings, Rosalyn Mommsen and Myron Hass; nieces and nephews. Card and emails can be sent to Myrna and her family at: Myrna Hass, 2677 190th Street, Delmar, IA 52037. Email: lhass@gmtel.net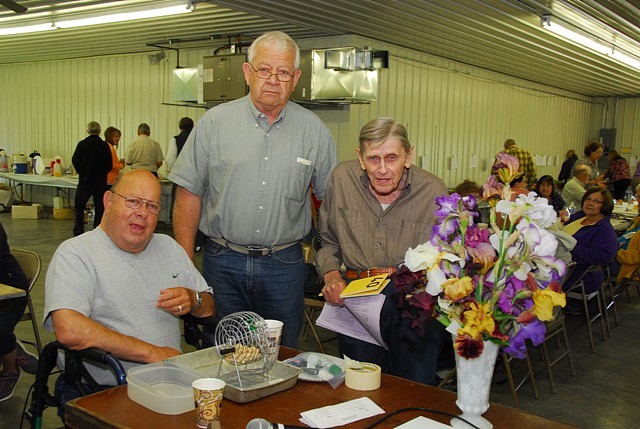 Loren (center) with two of his CVIDS buddies
Bob Papenhausen and Verne Moore
The Daylily World Loses Another Star
It is with great sadness that I must share with you that Robert "Bob" Faulkner (Natural Selection Daylilies, Dayton, OH) passed away on December 26, 2020, after a month-long battle against COVID-19. He was 74. His obituary can be accessed here. Known internationally as a daylily hybridizer, he belonged to the Shirley Farmer Club and the Region Two American Daylily Society. His hybridizing program led to scores of beautiful daylily hybrids, 87 of which are listed on the ADS Database. To view the fruits of his labors, take a moment to visit his website. Anyone who has met Bob will agree with me that he easily made friends with everyone he met. I still remember Bob's genial nature and eagerness to share his expertise with others, when he came to CVIDS in November 2014 as our guest speaker.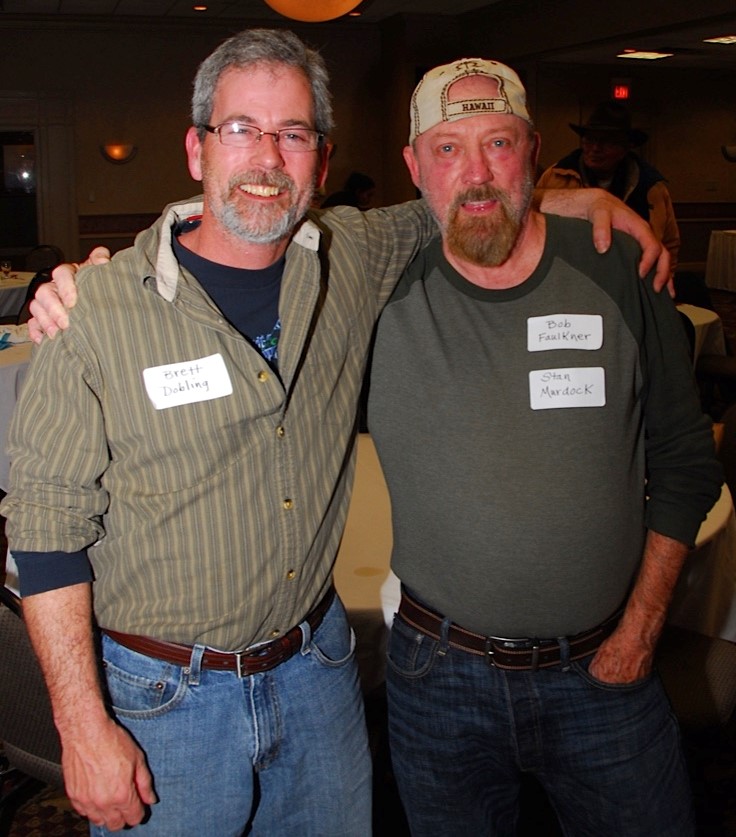 Mary McCord Passes Away
Mary McCord, 76, of Cedar Rapids died on Thursday, June 18, 2020, at the Views in Marion. Survivors include her husband Sam, a son, a daughter, a stepson, two grandchildren, and two brothers. She was preceded in death by her parents and two brothers. Mary was born on January 30, 1944, in Charles City, the daughter of Robert and Helen (Sampson) Glaspie. She married Sam McCord on November 12, 1994, in Cedar Rapids. Mary was an office manager of New York Life Insurance and retired from there after 35 years of service. She was a member of St. Andrew Lutheran Church and the Alzheimer's Association. Mary enjoyed sewing, knitting, singing and playing the piano, and was a pro at Sudoku. She forever will be remembered as a wonderful and caring wife, mother, grandmother, sister and friend whose memory will be cherished by all who knew and loved her. A memorial fund has been established. A message or tribute to the McCord family may be left at www.iowacremation.com under obituaries.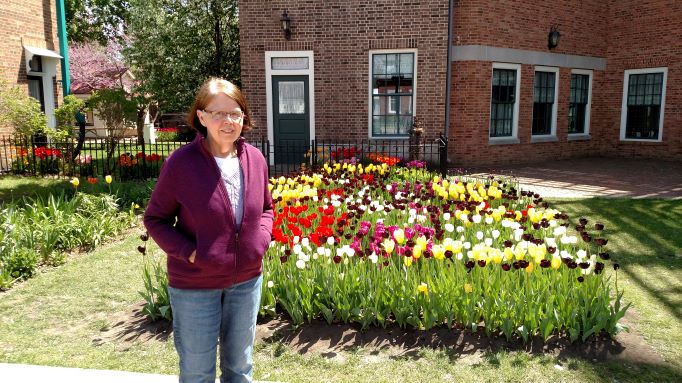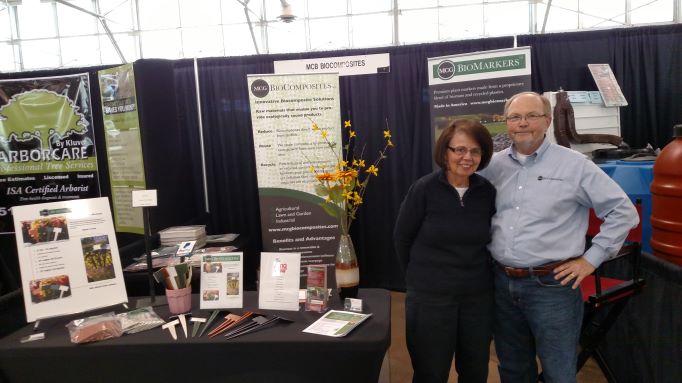 Loss of Two CVIDS Charter Members in 2020
In 2020, CVIDS lost two of its charter members. On May 10, Gertrude Pheiffer passed away in Monmouth, IL, at the age of 89. Her obituary can be found here. She grew over 2,500 hybrid daylily varieties and sold them across the country. CVIDS charter member Robert Little, Jr., of West Liberty, died on Saturday, September 12, 2020, at the Bird House, Hospice Home of Johnson County, at the age of 89. He is survived by his wife Marilyn and daughter Gretchen, also charter members of CVIDS. His obituary can be accessed here.

| | |
| --- | --- |
| Gertrude Pheiffer | Robert & Marilyn Little |
The Daylily Community Loses CVIDS Charter Member Gerald Hobbs
It is with the utmost sadness that I must inform you that our good friend Gerald Hobbs passed away on Saturday, May 18th, 2019, at the age of 90. The Hobbs family met with friends on Tuesday, May 21st, at the King-Lynk Funeral Home and Crematory in Fort Madison, where a Celebration of Life was held. Gerald was buried in Oakland Cemetery. His obituary can be accessed here. A memorial has been established in his memory, and online condolences may be left at: www.kinglynk.com.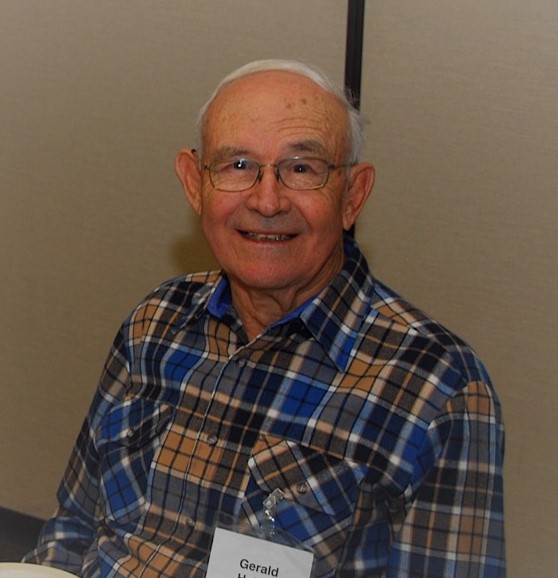 In recent years, daylily cultivation played a major part in Gerald's life. He was a charter member of the Cedar Valley Iris & Daylily Society, which he helped found in 1990. Gerald will be greatly missed not only by CVIDS members but also by daylily enthusiasts in the Midwest and nationwide. He was a prolific and gifted daylily hybridizer, registering over 50 new varieties that can be viewed at the American Hemerocallis Daylily Database. A wonderful and kind gentleman, Gerald was always happy to share his expertise with others. On behalf of CVIDS, I extend our sincere condolences to the Hobbs Family.

Shirley Waters Passes Away
I am sorry to inform you that longtime CVIDS member Shirley Waters of Moline, IL, passed away on Monday, March 25th, 2019, at the age of 70. Funeral services were held on Friday, March 29th, at Holy Cross Lutheran Church, Moline, and she was buried at the National Cemetery, Rock Island Arsenal. Memorials may be made to the church. Shirley was a keen daylily enthusiast and always great fun to be around. She was a CVIDS member during 2003-2017. Her obituary can be accessed here.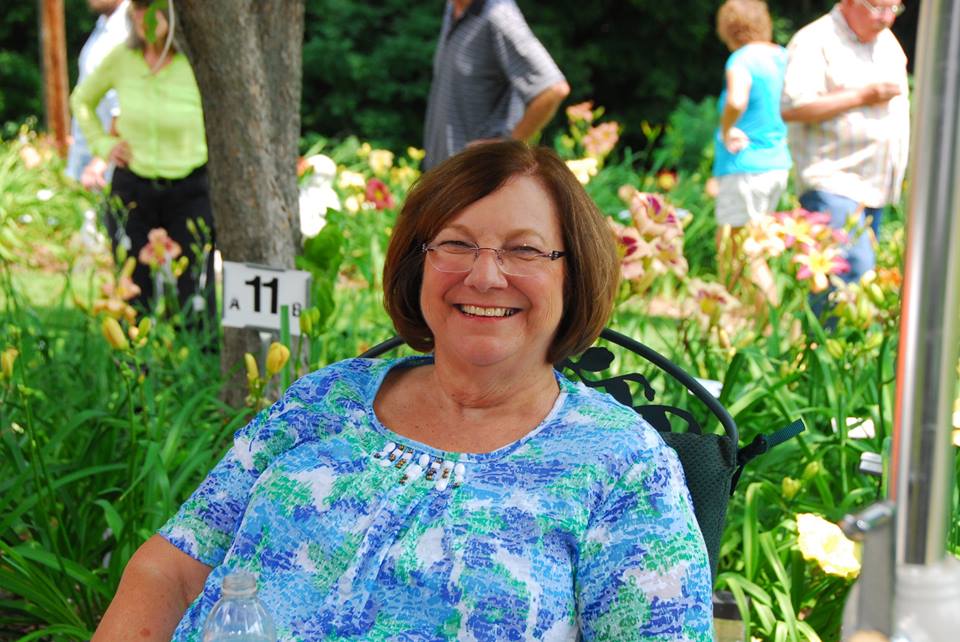 Shirley Waters (photo courtesy of Keith Riewerts)
Clay Dawson Passes Away
It is with great sadness that I must inform you that Clay Dawson passed away on December 20th, 2018, at the age of 84. Clay and his wife Kathleen were CVIDS members from 2002 until 2016, and Clay served as club president during 2008-2009. For many years, Clay and Kathleen's beautiful garden was one of AHS' National Display Gardens. His obituary may be accessed here. If you would like to express your condolences to Kathleen and her family, please send cards to their home address in Long Grove. If you don't have their address, please contact Nancy Rash. On June 29th, 2019, a Memorial Celebration of his life was held at Eldridge United Methodist Church. Many CVIDS members were in attendance including Keith Riewerts who provided a moving account of this wonderful occasion.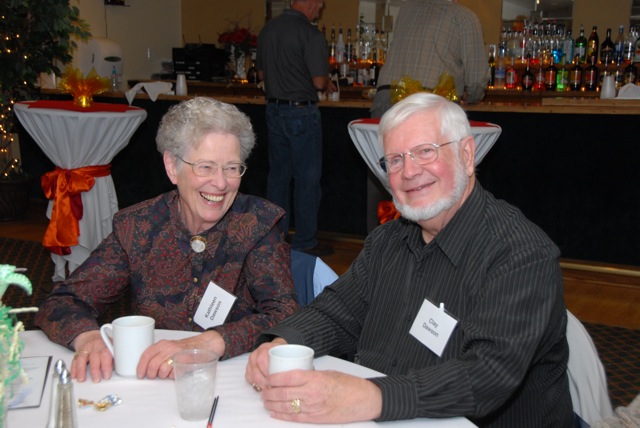 Longtime CVIDS Member Passes Away
On January 16th, 2019, Jonathan received word from Lisa Kramer, the daughter of longtime CVIDS member Don Erling, that Don passed away on October 23rd, 2018, at age 85 and was laid to rest on October 27th in Clinton, IA. Don belonged to CVIDS since 2007 and was also a Master Gardener. His obituary can be accessed here.

Tim Volquardsen Loses his Courageous Battle with Cancer
I am sorry to inform you that Timothy Volquardsen of Miles, IA, died on November 21st, 2018, at the University of Iowa Hospitals and Clinics, Iowa City, at the age of 60. Tim was a CVIDS member for many years. His funeral service was held on December 1st at Law Jones Funeral Home in Preston, IA, followed by burial in Myles City Cemetery. In lieu of flowers, a memorial fund was established in Tim's memory. His obituary can be accessed here. Our thoughts and prayers are with Tim's wife Valerie and the entire Volquardsen Family.
Sad News
I am very sorry to relay to you that club member Rex McCreight passed away on May 10th, 2018, at the age of 71. His wife Barbara and the McCreight family are in our thoughts and prayers. Funeral services were held on May 15th at the Christian Free Lutheran Church in Wheatland. Rex's obituary can be accessed here. We shall greatly miss him.

Bob Moore Passes Away
It is with much sadness that I must relay to you that longtime CVIDS member and club treasurer Bob Moore of Morning Sun, IA, passed away on April 12th, 2018, at the age of 76. Bob's funeral ceremony took place on April 17th at the First United Presbyterian Church in Morning Sun. His obituary can be accessed here. Bob will be greatly missed. On behalf of CVIDS, I'd like to extend our condolences to his wife Cathy and their family.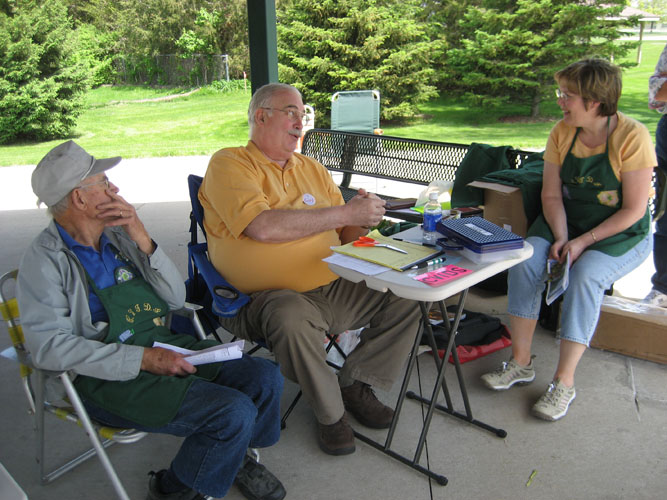 Saying Farewell to an Iowa Gentleman
It is with great sadness that I must share with you that our friend Lee Pickles (Chattanooga Daylilies, Hixson, TN) passed away at the age of 82 on Saturday, April 7th, 2018. I first met Lee and his wife Jean at several Pollen Dabbers meetings in Marshalltown, IA, where I joined other members of the audience "oohing and aahing" at his wonderful daylily seedlings, especially his red ones. When we went out for lunch, we would join Lee as he made a bee-line for the Maid-Rite downtown to order his beloved loose meat sandwiches.
After I had tried my hand at hybridizing for a few years, I plucked up courage and sent Lee an e-mail asking him to review some of the seedlings I'd produced and tell me whether I was headed in the right direction or not. I anxiously opened his return e-mail only to find that he hadn't directly answered my question but instead wrote the following advice: "Jonathan, let me share with you the same advice that my mentor Doc Branch told me when I began hybridizing. He told me to go out and buy the most expensive daylilies that you can afford and use them as the parents in your hybridizing program, because, if you start with old faces, you'll only end up with old faces". To sweeten the pot, he asked me whether I might be interested in receiving some of his extra seeds. Now, who in their right mind would ever say "No" to that kind offer? I gladly said "Yes" and, within a few weeks, I was planting several hundreds of his gifted seeds. Furthermore, I took to heart his sage advice and bought the most expensive and "bluest" daylilies that my budget allowed and then went to work trying to create a better "blue" cultivar. While I have as yet been pretty unsuccessful in meeting that goal, Lee's seeds gave rise to some absolutely wonderful offspring. I decided that the one that I loved the best should be introduced in Lee's honor as 'Made Right'. After receiving Lee's permission, we introduced it in 2017. When I'll look at that lily in the years to come, I shall be reminded of the wonderful person, kind friend, and excellent mentor that Lee Pickles was. He will be greatly missed by so many folks including myself.
| | |
| --- | --- |
| | |
| | |
| --- | --- |
| Lee Pickles - June 2016 (courtesy, Facebook) | H. 'Made Right' (Pickles-Poulton, 2017) |
Sylvia Clark-Hansen - Obituary
It is with great sadness that we learned that Sylvia Clark-Hansen passed away on October 19th, 2017, at the University of Iowa Hospitals and Clinics in Iowa City at the age of 19. Please keep the family of Colleen, John, and Catherine in your thoughts and prayers. You may access Sylvia's obituary here.
Donna Denly (1945-2017) - Obituary
Donna Joanne Denly died on July 25th, 2017, at the University of Iowa Hospital in Iowa City. She was born February 28th, 1945, in rural Madison County to Don and Vilna (Tuttle) Kennedy. She graduated from Interstate 35 school district in 1963. She was united in marriage to John David Denly in 1963; they later divorced. She was the mother of four children and grandmother to six grandchildren. Family, Faith and Flowers were the most important things in Donna's life. She could be found in her yard, garden or beautiful flower beds or working on her next quilt project. Donna took great joy in watching her children and grandchildren partake in their many activities. Donna was a 25-year survivor of breast cancer. She was a devoted member of the Prairie View United Methodist Church of rural Ollie. Donna donated her time and many efforts to numerous organizations, activities, church groups, flower clubs, card groups (Bridge and Pegs & Jokers) and many others that are too numerous to mention. She was preceded in death by her father, Don; a great nephew, JD Marr; mother-in-law, Hilda (Jim) Nicholson.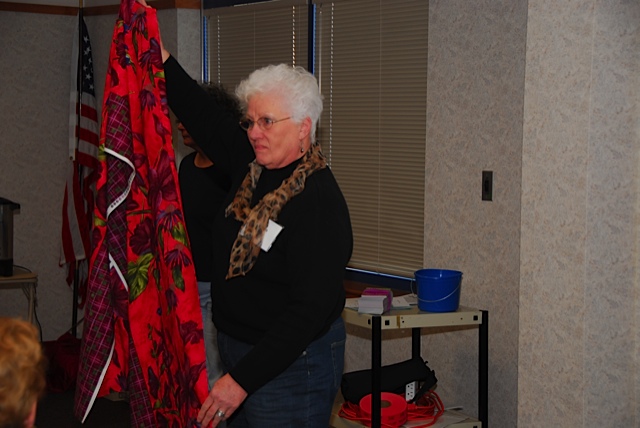 She is survived by her children, Deb Horras and husband Brian of rural Ollie; Diana Greeson and husband Ron of Prole; Denise Conrad and husband Ed of Sigourney; Dave Denly and wife Sara of Omaha, Nebraska; grandchildren, Amy and Zach Mosbey, Eddie Conrad, Jessica Horras, Mac Conrad, Ben Denly, Abbey Denly. Special friend to the family, Nazareth Rambo; Mother, Vilna Kennedy of New Virginia; siblings, Marguerite (Herb) Rockey of Kennewick, Washington; Gordon (Sandy) Kennedy of Bedford; Roger (Ginny) Kennedy of Emporia, Kansas; Phyllis (Jim) O'Hair of Van Wert; Karen (Jerry) Cooley of New Virginia; Bonnie (Don) Simmerman of Truro; Ancel (Cindy) Kennedy of Truro; Leroy (Bev) Kennedy of Lamoni; Jim (Cindy) Kennedy of Washington.

A memorial service was held on July 29th at Prairie View Methodist Church, near Ollie, Iowa, with visitation on the previous day. Memorials should be made to Prairie View United Methodist Church or Spina Bifida Association of Iowa. Arrangements by the Holm Funeral Home, Sigourney.
Sad News
It is with much sadness that I must relay the news that Sanders, the young grandson of Lynn and Sherry Moffit and the great-nephew of Robert and Suzanne Moffit, lost his courageous battle against leukemia and passed away on January 30th, 2017, at the University Hospitals & Clinics. He was 4 years old. Our thoughts and prayers are with the Moffit Family. Please click here to access Sanders' obituary. Services celebrating Sanders' life took place on February 4th at the American Legion in Lone Tree with a visitation on Friday evening at the same location. In lieu of flowers, a memorial fund has been established.
Doug Jones - May He Rest in Peace
Our friend and fellow CVIDS member Doug Jones passed away unexpectedly of natural causes on November 10th, 2016, at his home in Mitchellville. Our thoughts and prayers are with his mother Caroline and sister Ellen. We shall miss him greatly. He was always fun to be around, full of humor, and having lots of stories to tell. He immensely enjoyed continuing and extending the daylily hybridization program initiated by his father John ("Jack").

On Sunday, November 20th, a remembrance service was held for Doug at St. John Lutheran Church in Olin. Led by Pastor Cindy McKenzie, this very moving service included bagpipe music, spiritual songs, and tales of remembrance related by many members of the congregation including a former high school friend, several of Doug's co-workers, Nancy Carlisle, and both Caroline and Ellen Jones. More than a dozen CVIDS members were present. Several attendees brought photos of Doug, attached them to scrapbook pages, and inscribed messages. The afternoon concluded with a reception in the church basement, where folks had a golden opportunity to share their memories of Doug. Members of the congregation received a copy of Doug's obituary. Please click here to access the front and back covers of the obituary notelet.
Organized by one of Doug's coworkers, a Celebration of Life was held on Sunday, December 4th, at the State Historical Museum of Iowa in Des Moines. Nancy Carlisle represented CVIDS and gave a wonderful presentation to honor the impact that Doug had on our club.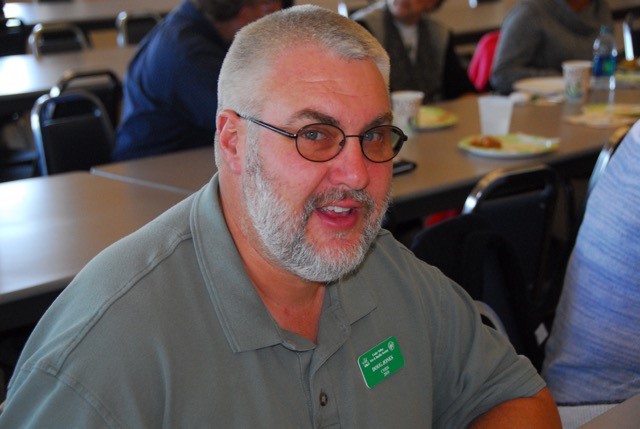 Susan Minger (1947-2016)
I am sorry to inform you that longtime CVIDS member Susan Minger died of cancer on October 14th, 2016. Her obituary may be reached by clicking here. A Memorial Service took place on October 22nd at the Springville Presbyterian Church (Springville, IA), where friends had the opportunity to greet the family beforehand.


Sad News
It is with great sadness that I must report that CVIDS charter member Verne Moore passed away on July 12th, 2016. He will be greatly missed. Our thoughts and prayers are with Mary and the Moore family at this time. Cards and messages can be sent to Mary at 489 Hodgin Road, Springville, IA 52336. Verne's obituary can be accessed by clicking here. The funeral service for Verne took place on July 18th at Springville United Methodist Church, Springville, and he was buried with military honors at the Wilcox Cemetery in Viola.

I am sure that I am not alone in saying that I miss Verne greatly. He was a very special person to me, one of a kind. The day after his passing, I posted a tribute to him on our CVIDS' Facebook page, Since not all of you are on Facebook, I'm taking the liberty of posting that tribute here:
"As many of you already know, I got into daylily hybridization quite by chance while vacationing with my family in Door County, Wisconsin, in 2006. I was trying to navigate us to a beach on Lake Michigan but instead got us totally lost. However, as a result, we had the great fortune to pass by the home of daylily hybridizer Ron Mickelson, whose garden just beckoned us to stop and take a tour. Ron kindly showed us around and encouraged me to try my hand at hybridizing. "It's easy," he said. "Anyone can do it. Just cross pretty with pretty and see what you get!" He was right. Anyone can make a cross in about 30 seconds flat, but choosing which parents to use in the breeding process requires lots more experience! Within about six weeks of returning from Wisconsin, I'd made several successful crosses and had lots of black, shiny seeds to show for my "hard work". But I didn't know how to germinate these beauties, so I resorted to the internet, only to find that CVIDS was holding its summer daylily sale on the following Saturday in Monticello. I arrived promptly at 9 AM and was greeted by many "hemaholics". The first club member that I dared ask for advice regarding daylily seed germination didn't hesitate, she just said, "Oh, you should talk to Verne Moore. He's that friendly gentleman over there." And that's how I met Verne and his wonderful wife Mary. "Pleased to help, Jonathan," he said. "This is how I do it". He didn't know me from Adam, yet during the next half hour he told me all his propagation secrets and then he introduced me to other CVIDS members. Well, that started for me a journey of daylily hybridization that is now in its tenth year. Along the way, Verne was very helpful and encouraging. He liked to be kept up to date on the seedlings that I felt were showing the most promise. "Have you got that true blue one yet?" he'd ask with a twinkle in his eye. Yesterday, I learned that Verne passed away in the afternoon. I already miss him greatly. No, Verne, I haven't been lucky enough to get that true blue one yet, but I'm having a lot of fun (and at times, lumbar pain) trying, and it's thanks to your kindness, humor, and expertise that I have come this far. This morning, I selected several blooms from my daylily seedlings and constructed a "path of daylilies". I would like to dedicate this path to Verne. Rest in peace, my friend."

| | | |
| --- | --- | --- |
| | | |
Harlan Preuss Passes Away
We are saddened to learn that Harlan Pruess passed away on June 20th, 2016, and his funeral took place on June 23rd at St. John's United Church of Christ in Clarence, IA. In lieu of flowers, memorials may be made to 3/30 Club Country Club-Lowden or St. John's United Church of Christ-Clarence. Cards may be sent to Ginger Pruess at her home address. Our heartfelt compassion goes out to Ginger and his family.

Judith "Lynn" Stoll
CVIDS charter member Lynn Stoll died at the University of Iowa Hospitals & Clinics on December 29th, 2014, at the age of 73. Her obituary may be accessed here.

CVIDS Loses Longtime Member
Longtime CVIDS member Betty Capps of Pekin passed away on April 4th, 2013, at the Sigourney Care Center at the age of 90. She was born on May 25th, 1922, in Sigourney, the daughter of John and Iva Johnson Crouse. On September 13th, 1950, she married Kenneth Capps in Sigourney.


Mrs. Capps graduated from Sigourney High School in 1940. She attended William Penn College in Oskaloosa. Betty taught school for 10 years in one-room schools in rural Keokuk County. She moved to the Capps' family farm in Pekin right after her marriage. Betty farmed with her husband for many years. She lived on the farm until about two years ago. She then moved to assisted living.

Betty was an excellent cook and seamstress. She was a member of the Pekin United Methodist Church and later the Prairie View United Methodist Church. She was a Sunday school teacher and also the church treasurer for several years. Mrs. Capps enjoyed gardening and raising flowers with her husband. Betty and Kenneth became CVIDS members in 1996. Betty was also a member of the Jolly Janes women's group in the Pekin area. Betty was a lifelong fan of the Chicago Cubs and the Iowa Hawkeyes.

She loved her family very much. Betty always put them first. She knew what every family member's favorite pie was. There were normally six or seven of them at every family get-together. Betty is survived by two sons, Richard (Susan) of Cedar Falls and Russell (Deborah Petersen) of Pekin; six grandchildren, Sarah (Chad Jones), Mandy (Jason Hay), Erin Capps, John (Kassie Capps), Morgan (Dustin Coleman) and Lydia Capps; and seven great–grandchildren, Payten Coleman, Isaac Jones, Paislee Coleman, Abby Jones, Pierce Coleman, Colton Capps and Dawson Hay. She was preceded in death by her husband Kenneth, parents, and a brother, Horace.

Jack Jones passes away a few days before his 80th Birthday
CVIDS member John "Jack" Jones died at his Davenport home on Wednesday, December 12th, 2012. An on-line obituary, which appeared in the Cedar Rapids Gazette and Quad Cities Times on December 16th can be found by clicking here. Memorials may be made to his family in care of McGinnis-Chambers Funeral Home (644 River Drive, Bettendorf, IA 52722), who assisted the family with arrangements.

We shall greatly miss Jack and his wonderful sense of humor. On July 13th, a service was held at the Jones Family farm in Olin to celebrate his life. It was a wonderful occasion during which many family members and friends recalled stories of Jack and the impact that he'd had upon their lives. After the service, those in attendance toured the gardens, which were in full bloom and looked outstanding, and enjoyed a delicious lunch. Jack's seedlings were on display that day and will be showcased by Doug at our annual Hybridizer's Roundup in October 2013. Doug will also introduce us to the first seedling of his own. It seems as though the torch has been passed from father to son. Click here to view a few photos taken on that most memorable day.