Doug Jones - May He Rest in Peace
Our friend and fellow CVIDS member Doug Jones passed away unexpectedly of natural causes on November 10th, 2016, at his home in Mitchellville. Our thoughts and prayers are with his mother Caroline and sister Ellen. We shall miss him greatly. He was always fun to be around, full of humor, and having lots of stories to tell. He immensely enjoyed continuing and extending the daylily hybridization program initiated by his father John ("Jack").

On Sunday, November 20th, a remembrance service was held for Doug at St. John Lutheran Church in Olin. Led by Pastor Cindy McKenzie, this very moving service included bagpipe music, spiritual songs, and tales of remembrance related by many members of the congregation including a former high school friend, several of Doug's co-workers, Nancy Carlisle, and both Caroline and Ellen Jones. More than a dozen CVIDS members were present. Several attendees brought photos of Doug, attached them to scrapbook pages, and inscribed messages. The afternoon concluded with a reception in the church basement, where folks had a golden opportunity to share their memories of Doug. Members of the congregation received a copy of Doug's obituary. Please click here to access the front and back covers of the obituary notelet.
Organized by one of Doug's coworkers, a Celebration of Life was held on Sunday, December 4th, at the State Historical Museum of Iowa in Des Moines. Nancy Carlisle represented CVIDS and gave a wonderful presentation to honor the impact that Doug had on our club.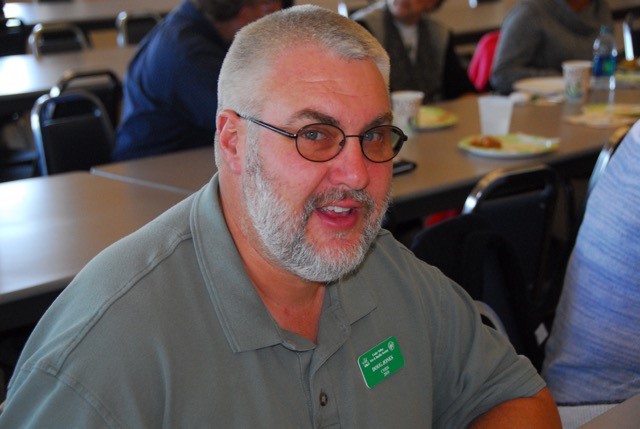 Susan Minger (1947-2016)
I am sorry to inform you that longtime CVIDS member Susan Minger died of cancer on October 14th, 2016. Her obituary may be reached by clicking here. A Memorial Service took place on October 22nd at the Springville Presbyterian Church (Springville, IA), where friends had the opportunity to greet the family beforehand.


Sad News
It is with great sadness that I must report that CVIDS charter member Verne Moore passed away on July 12th, 2016. He will be greatly missed. Our thoughts and prayers are with Mary and the Moore family at this time. Cards and messages can be sent to Mary at 489 Hodgin Road, Springville, IA 52336. Verne's obituary can be accessed by clicking here. The funeral service for Verne took place on July 18 at Springville United Methodist Church, Springville, and he was buried with military honors at the Wilcox Cemetery in Viola.

I am sure that I am not alone in saying that I miss Verne greatly. He was a very special person to me, one of a kind. The day after his passing, I posted a tribute to him on our CVIDS' Facebook page, Since not all of you are on Facebook, I'm taking the liberty of posting that tribute here:

"As many of you already know, I got into daylily hybridization quite by chance while vacationing with my family in Door County, Wisconsin, in 2006. I was trying to navigate us to a beach on Lake Michigan but instead got us totally lost. However, as a result, we had the great fortune to pass by the home of daylily hybridizer Ron Mickelson, whose garden just beckoned us to stop and take a tour. Ron kindly showed us around and encouraged me to try my hand at hybridizing. "It's easy," he said. "Anyone can do it. Just cross pretty with pretty and see what you get!" He was right. Anyone can make a cross in about 30 seconds flat, but choosing which parents to use in the breeding process requires lots more experience! Within about six weeks of returning from Wisconsin, I'd made several successful crosses and had lots of black, shiny seeds to show for my "hard work". But I didn't know how to germinate these beauties, so I resorted to the internet, only to find that CVIDS was holding its summer daylily sale on the following Saturday in Monticello. I arrived promptly at 9 AM and was greeted by many "hemaholics". The first club member that I dared ask for advice regarding daylily seed germination didn't hesitate, she just said, "Oh, you should talk to Verne Moore. He's that friendly gentleman over there." And that's how I met Verne and his wonderful wife Mary. "Pleased to help, Jonathan," he said. "This is how I do it". He didn't know me from Adam, yet during the next half hour he told me all his propagation secrets and then he introduced me to other CVIDS members. Well, that started for me a journey of daylily hybridization that is now in its tenth year. Along the way, Verne was very helpful and encouraging. He liked to be kept up to date on the seedlings that I felt were showing the most promise. "Have you got that true blue one yet?" he'd ask with a twinkle in his eye. Yesterday, I learned that Verne passed away in the afternoon. I already miss him greatly. No, Verne, I haven't been lucky enough to get that true blue one yet, but I'm having a lot of fun (and at times, lumbar pain) trying, and it's thanks to your kindness, humor, and expertise that I have come this far. This morning, I selected several blooms from my daylily seedlings and constructed a "path of daylilies". I would like to dedicate this path to Verne. Rest in peace, my friend."
| | | |
| --- | --- | --- |
| | | |

Harlan Preuss Passes Away
We are saddened to learn that Harlan Pruess passed away on June 20th, 2016, and his funeral took place on June 23rd at St. John's United Church of Christ in Clarence, IA. In lieu of flowers, memorials may be made to 3/30 Club Country Club-Lowden or St. John's United Church of Christ-Clarence. Cards may be sent to Ginger Pruess at 2326 Old Lincoln Highway, Lowden, IA 52255 (phone: 563-941-7403). Our heartfelt compassion goes out to Ginger and his family.


Judith "Lynn" Stoll
CVIDS charter member Lynn Stoll died at the University of Iowa Hospitals & Clinics on December 29, 2014, at the age of 73. Her obituary may be accessed here.


CVIDS Loses Longtime Member
Longtime CVIDS member Betty Capps of Pekin passed away on April 4, 2013, at the Sigourney Care Center at the age of 90. She was born May 25, 1922, in Sigourney, the daughter of John and Iva Johnson Crouse. On Sept. 13, 1950, she married Kenneth Capps in Sigourney.


Mrs. Capps graduated from Sigourney High School in 1940. She attended William Penn College in Oskaloosa. Betty taught school for 10 years in one-room schools in rural Keokuk County. She moved to the Capps' family farm in Pekin right after her marriage. Betty farmed with her husband for many years. She lived on the farm until about two years ago. She then moved to assisted living.

Betty was an excellent cook and seamstress. She was a member of the Pekin United Methodist Church and later the Prairie View United Methodist Church. She was a Sunday school teacher and also the church treasurer for several years. Mrs. Capps enjoyed gardening and raising flowers with her husband. Betty and Kenneth became CVIDS members in 1996. Betty was also a member of the Jolly Janes women's group in the Pekin area. Betty was a lifelong fan of the Chicago Cubs and the Iowa Hawkeyes.

She loved her family very much. Betty always put them first. She knew what every family member's favorite pie was. There were normally six or seven of them at every family get-together. Betty is survived by two sons, Richard (Susan) of Cedar Falls and Russell (Deborah Petersen) of Pekin; six grandchildren, Sarah (Chad Jones), Mandy (Jason Hay), Erin Capps, John (Kassie Capps), Morgan (Dustin Coleman) and Lydia Capps; and seven great–grandchildren, Payten Coleman, Isaac Jones, Paislee Coleman, Abby Jones, Pierce Coleman, Colton Capps and Dawson Hay. She was preceded in death by her husband Kenneth, parents, and a brother, Horace.


Jack Jones passes away a few days before his 80th Birthday
CVIDS member John "Jack" Jones died at his Davenport home on Wednesday, December 12th, 2012. An on-line obituary, which appeared in the Cedar Rapids Gazette and Quad Cities Times on December 16 can be found by clicking here. Memorials may be made to his family in care of McGinnis-Chambers Funeral Home (644 River Drive, Bettendorf, IA 52722), who assisted the family with arrangements.

We shall greatly miss Jack and his wonderful sense of humor. On July 13, a service was held at the Jones Family farm in Olin to celebrate his life. It was a wonderful occasion during which many family members and friends recalled stories of Jack and the impact that he'd had upon their lives. After the service, those in attendance toured the gardens, which were in full bloom and looked outstanding, and enjoyed a delicious lunch. Jack's seedlings were on display that day and will be showcased by Doug at our annual Hybridizer's Roundup in October 2013. Doug will also introduce us to the first seedling of his own. It seems as though the torch has been passed from father to son. Click here to view a few photos taken on that most memorable day.