We're Rapidly Closing In On.......
...one of the most exciting days in our club's calendar that features no less than four events: the Fall Plant Sale, Potluck Lunch, and both Silent and Live Auctions. This year, these events will take place on Saturday, August 26th, at the Youth Center, Jones County Fairground, 700 N. Maple Street, Monticello.

Public Plant Sale:
From 9 am - 12 noon, members are hosting a public plant sale in which many named varieties of daylilies and other plants are sold at bargain prices. CVIDS members, please donate plants (daylilies, irises, and companion perennials) to this sale. Information about readying plants for sale can be found in Section C.1 of the Members' Handbook.

The remaining events are for members only and are not open to the public.

Noon Potluck:
About noon, club members enjoy a potluck lunch. Please bring something to share and any drinks that you may want.
Silent Auction:
The plants being auctioned on this occasion are those cultivars returning to the club that have been on loan to members for two years. In addition, there may be a few "stragglers" from previous years. Members are responsible for getting their auction plants to Monticello. If unable to deliver them personally, they must make alternative arrangements for transport of their club plants to the auction. Please try to bring your clearly labeled plants as early as you can that morning and then check them in at the Silent Auction tables just inside the Youth Center doors. Do not leave them in that area without having your name and plant information recorded by the committee.

Please review the plant information sheets and submit your bids to the committee chair, Diane Derganz, by email: lemflutist@hotmail.com or phone (563)349-2008. Deadline for your bids is 8 pm, Monday, Aug. 21st, so don't delay! As in the past, we are asking that your bids be in odd amounts to avoid duplicates. You will be notified as soon as possible if you submitted a winning bid. Those with email addresses WILL BE NOTIFIED BY EMAIL ONLY, so please watch your mail. Phone calls will be made to members who do not have an email address. If more fans are returned than stated on the bid sheets, you still may be a successful bidder, so please check with the committee before you leave that morning.

Winners must pick up and pay for their plants at the Silent Auction tables in the Youth Center. If unable to do so personally, they should arrange for a proxy to collect and pay for their plants, letting Diane know of this arrangement. In case of ties, the earliest postmark or e-mail wins.
Note: New this year are individual evaluations by the growers as to how their club plant performed. Please review this information and, if needed, more details can be obtained through the CVIDS or AHS websites. The committee would like to thank all those who participated in the evaluation of their plants. It was a learning experience for all, and we hope it can continue in years to come. If you have any questions, please contact a committee member (Diane Derganz, Sara Hankemeier, or Heather Harroun), and they'll try to answer your concerns.
Live Auction:
Club plants that were not purchased through the silent auction will then be put up for bids in the live auction. All members present may bid. Payment may be made by check, credit card or in cash.

Sounds like we're going to have a fun day. Many thanks should go to Diane, Sara, and Heather for collecting the data and organizing the auctions. Also, many thanks to Keith Riewerts for advertizing the public plant sale. Please come and join us on the 26th. Don't forget to tell family, friends, and neighbors about the sale! Look forward to seeing you there.


AHS Region One's Summer Regional Meeting
The 2017 AHS Region One Summer Meeting in Minnesota was a very memorable and well-organized get-together for daylily lovers. Five beautiful gardens with daylilies in full bloom, excellent weather, visits with longtime friends from all over the Region, making new friends, two auctions, delicious meals, all of these made for a great time. Over 125 persons took part, including 18 CVIDS members. Here are a few photos kindly provided by Lyle.


ATTENTION - August 6 Deadline!
Diane Derganz and Sara Hankemeier have created an excellent (and simple) Club Plant Evaluation Sheet that they have asked everyone to fill out and return by Aug. 6 for the August Club Plant return and sale in Monticello. A list of all returning Club Plants from 2015 (and other years) can be accessed by clicking here. This should help to fulfill our club goal of evaluating our Club Plants and how they perform in our Iowa gardens.


Donna Denly (1945-2017) - Obituary
Donna Joanne Denly died July 25, 2017, at the University of Iowa Hospital in Iowa City. She was born February 28, 1945, in rural Madison County to Don and Vilna (Tuttle) Kennedy. She graduated from Interstate 35 school district in 1963. She was united in marriage to John David Denly in 1963; they later divorced. She was the mother of four children and grandmother to six grandchildren. Family, Faith and Flowers were the most important things in Donna's life. She could be found in her yard, garden or beautiful flower beds or working on her next quilt project. Donna took great joy in watching her children and grandchildren partake in their many activities. Donna was a 25 year survivor of Breast Cancer. She was a devoted member of the Prairie View United Methodist Church of rural Ollie. Donna donated her time and many efforts to numerous organizations, activities, church groups, flower clubs, card groups (Bridge and Pegs & Jokers) and many others that are too numerous to mention. She was preceded in death by her father, Don; a great nephew, JD Marr; mother-in-law, Hilda (Jim) Nicholson.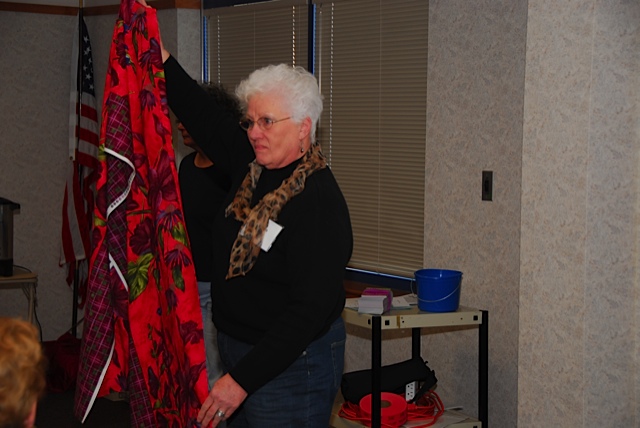 She is survived by her children, Deb Horras and husband Brian of rural Ollie; Diana Greeson and husband Ron of Prole; Denise Conrad and husband Ed of Sigourney; Dave Denly and wife Sara of Omaha, Nebraska; grandchildren, Amy and Zach Mosbey, Eddie Conrad, Jessica Horras, Mac Conrad, Ben Denly, Abbey Denly. Special friend to the family, Nazareth Rambo; Mother, Vilna Kennedy of New Virginia; siblings, Marguerite (Herb) Rockey of Kennewick, Washington; Gordon (Sandy) Kennedy of Bedford; Roger (Ginny) Kennedy of Emporia, Kansas; Phyllis (Jim) O'Hair of Van Wert; Karen (Jerry) Cooley of New Virginia; Bonnie (Don) Simmerman of Truro; Ancel (Cindy) Kennedy of Truro; Leroy (Bev) Kennedy of Lamoni; Jim (Cindy) Kennedy of Washington.

A memorial service was held on Saturday, July 29, at Prairie View Methodist Church, near Ollie, Iowa, with visitation on the previous day. Memorials should be made to Prairie View United Methodist Church or Spina Bifida Association of Iowa. Arrangements by the Holm Funeral Home, Sigourney.


Looking Back at the 2017 CVIDS Garden Tour - Message from our President

As a teacher, I would grade our July 8, CVIDS Garden Tour an A+! Between the wonderful weather and the beautiful gardens, all the tests were passed with flying colors.

Our hosts had taught their daylilies to cooperate and show their best sides. Jonathan's magnificent seedling garden showed off the fine results of his hybridizing, and Susie's contributions to the day were incredible, especially considering the recovery progress from her back surgery. Special thanks goes to Jonathan for disconnecting the electric deer fence. LOL

Mary Jo and Joe Duffy's creative and professional landscaping efforts were lovely as well. The beautiful stonework makes my back hurt. Joe's source of mulch and his raised bed vegetable garden makes me envious.

Jimmy Seaman's garden, with the stone and Purington paver brickwork patio and companion plants displayed artistic creativity in every corner of his garden. His three Forest Pansy Redbud trees were of special interest. Their purple/red leaves are so very attractive.

Our lunch at the Coralville Public Library reminded me of a threshers' dinner as nearly 60 of us had lunch together. Jonathan, Susie and Mary Jo did a superb job of organizing our repast.

Then it was on to Conroy and Joyce and Steve Parson's garden at about 1:30 p.m. Health issues (we all have a few) kept Joyce from some of the finishing touches on their yard, but there was no need to feel bad, as her garden was exquisite. I was especially interested to see H. Bold Stripe, Gerald Hobbs very first introduction from 1986, in the Parson's garden. There should be a picture of that on the CVIDS web site (webmaster's note).

Our final destination for the 2017 tour was to the historic Cottage-in-the-Meadow Gardens of Larry and Wilma Rettig in South Amana. His most-interesting narrated tour highlighted the family history, teaching time in the South, his extensive interest and knowledge in plants of all types and his return to the Amana home of Wilma's childhood, where his love of history and horticulture are plain to see. Daylilies make up only one facet of our complex lives and our visit to the Rettig's historical home clearly demonstrated that.

So we (CVIDS) did indeed get a superior grade on our 2017 CVIDS Garden Tour. An A+ for the gardens, an A+ for effort, an A+ for participation and an A+ for the weather. Congratulations to us all!

I also want to congratulate Jonathan Poulton for his National AHS Best Scientific Newsletter Award for his scientific article "Genetically Engineering Those Blues?", which was published in The Daylily Pioneer, Fall 2016, pp. 8-12. This is Jonathan's second such award. Well done, Jonathan!

Commendation too, goes to Nan Ripley, who received the AHS Regional Service Award for her contributions to Region One.


Photos taken at the Duffy Residence

Photos of Larry and Wilma Rettig's Cottage-in-the-Meadow Gardens listed in the Archives of American Gardens of the Smithsonian Institute in Washington, D.C..
| | |
| --- | --- |
| | |
| | |
| | |
| | |
| | |
| | To visit the Cottage-in-the-Meadow Gardens website, click here. |

Report on the Muscatine Spring Plant Sale - May 6th
Last Saturday's Spring Plant Sale at the Muscatine Environmental Learning Center, which we shared with the Muscatine Master Gardeners and the Muscatine Garden Club, was a great success for many reasons. First, Discovery Park Shelter #2 was a much better place to hold the sale than the shelter that we've used in previous years. Second, there were lots of interested buyers, so many so that few plants were left unsold by noon. Third, an estimated 30-35 CVIDS members brought super plants for sale, and everyone pitched in with the chores, making it easy. Fourth, CVIDS members had an excellent opportunity to chat with the avid gardeners in the MMG and MGC. Last but not least, the weather committee did a pretty fine job. We enjoyed lots of sunshine and warmth, even though the breeze was at times a little cool for some of us. Many thanks to all of you who took part in the Sale and to Lyle for the photos shown here. A special "Thank You" goes to Heather Harroun, who worked with Deb Bentley, CVIDS member and president of the Muscatine Garden Club, and with the president of the Muscatine Master Gardeners Club to bring about this exciting new event.


The unsold plants were taken to Iowa City and donated to Altrusa International of Iowa City, whose plant sale is next weekend. Altrusa International of Iowa City is a 100-year-old chapter of Altrusa International. Their mission is to improve the lives of women and children through advocacy and support of literacy. They support a variety of community endeavors and provide scholarships to female high school graduates pursuing a college education. Other projects that they have supported are Habitat for Humanity, Domestic Violence Intervention Program, Iowa City Public Library Foundation, Little Free Libraries, support of students gaining their GED through Kirkwood Community College, book donations, Shelter House, and many other worthy community endeavors. They have partnered with UNESCO in one of our most rewarding programs, supporting and funding Little Free Libraries in the Iowa City community.

With the Sale now in the rear-view mirror, we can start looking ahead to the Club Plant Distribution & Auction in West Liberty on May 20th and the Garden Tour on July 8th. With respect to the Tour, lunch will take place in an air-conditioned room at the Coralville Public Library. There are two options for our garden visitors. For those that so desire, we are arranging with HyVee to provide box lunches that will consist of a sandwich of your choice, a cookie, and chips. The sandwich choices are ham & swiss cheese, turkey & cheddar, or vegetarian delight, all of which can be prepared on either white or wheat bread. The cost for CVIDS members is $5 per person. The club will provide drinks. If you'd prefer to bring your own lunch, that would be the second option! At last Saturday's Sale, 21 members signed up for a HyVee lunch. The order list will be circulated at the May 20th meeting. If you'd like to order lunch but will not be attending that meeting, please contact Jonathan by phone or e-mail.

CVIDS Club Plant Distribution and Live Auction - May 20th
The club plant distribution will take place at Floral Hall, Muscatine County Fairgrounds, West Liberty. The distribution of earned plants will begin at 9:30 AM, but please come at 9:00 AM to socialize, enjoy the refreshments, and view the plants. After the distribution concludes, there will be a live auction of remaining plants. Please note that <all> club members are eligible to bid in this auction. Click here to access a Powerpoint presentation of the cultivars of daylilies and iris that Zora Ronan has obtained on our behalf. Thank you, Zora, for all your hard work!

Looking for Korth Daylilies!
I have received an e-mail from a daylily enthusiast who is searching for Korth daylilies. Her wish list is as follows: Ancient of Days, Arrakis Sunset, Arrayed in White, August Bride, August Groom, August Wedding, Blown Away, Cantaloupe Stampede, Cast Your Crown, Celestial Army, Celestial Radiance, Cooler by the Lake, Forever Rosemary, Gertrude's Melody, Grace Alone, Grace Like Rain, Heaven's Morning, Heir to the Throne, Legendary Romance, Natalie Grace, New Covenant, Northern Splendor, Northern Treasure, Orange Overload, Parable of the Net, Pearl of Great Price, Pinewood Easter Morning, Pinewood Gold Ore, Purify My Heart, Reagan Kate, Rivendell Twilight, Rolling Stone, Ruby Shadows, Sawtooth Predator, Shining Like the Son, Shot Gun Wedding, Snow Day, Tears for Gus, Upon This Rock, Where's Waldo, Wonderfully Made, Yellow Raincoat, and Zoe Josephine Symons. If you have one or more of these and are willing to part with a fan or two, please contact Jonathan and he'll put you in contact with the enthusiast. Thank you so much!

This is where Gerald and Steve live! Boy, do they have to travel a long way to our meetings!

| | |
| --- | --- |
| | |

Club Photo Gallery Third Edition Now Being Distributed
The 3rd edition of our "Meet the Members" photo gallery rolled off the printing presses in early January and was distributed to attendees at the Spring meetings. Other club members may pick up their copies of this 16-page document from Jonathan.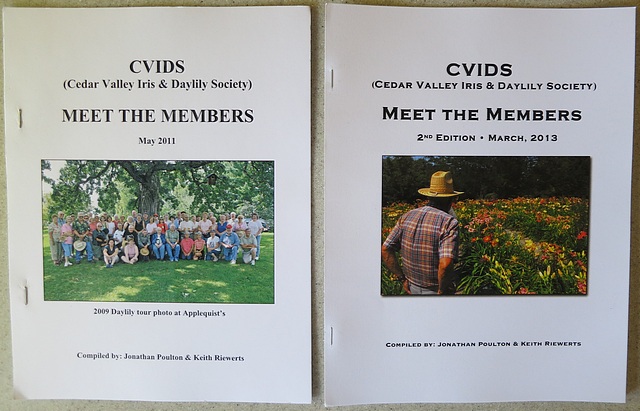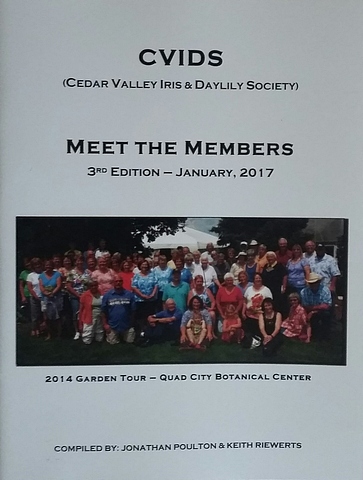 Road Trip to Marr Park for our April Meeting!
Our April club meeting took place on Saturday, April 8th, at the Washington County Conservation Education Center at Marr Park, 2943 Highway 92, Ainsworth. On that day, our speaker was daylily hybridizer Nan Ripley of Walkabout Gardens, Nevada, IA. Her presentation titled "Genus Lilium and genus Hemerocallis" compared true lilies with daylilies, but she also took this opportunity to show us some of her latest daylily creations. Sounds like the meeting was a HUGE success. Thank you, Nan! Minutes for the Business Meeting and the 2020 Regional Task Force Meeting are now available.

Second CVIDS Meeting of 2017 - February 11th at Kirkwood College
Our second meeting of the year took place on February 11th at the Horticulture Building, Kirkwood College, in Cedar Rapids with 41 members in attendance. Sadly, I can't give you a personal report, because Susie and I were at that very time flying back from the Dominican Republic. However, the following photos taken by Lyle make me think that we missed a fun and informative afternoon among friends. Here are the meeting minutes. The meeting began with a social hour and potluck, after which club member Nancy Rash presented a talk on "Great Botanical Gardens and Their Resources". In a summary, she wrote: "Botanical gardens are a delight to visit and offer a wealth of photographic opportunities for photographers. Gardens are an opportunity to stroll leisurely along the paths and observe the flowers and trees. Sometimes it's a race to see what is next around the corner and take in all of the displays before closing time. For me, it is an educational opportunity to see beautiful flowers and trees, observe trial gardens, learn new techniques or horticultural practices. Other services at the botanical garden might include tours, educational displays, art exhibits, libraries, musical performances or a lunch at a café.

In the presentation "Great Botanical Gardens and Their Resources", I will show photos of some gardens that Lyle and I have visited. The online resources that will be shared can be used to prepare for a trip to the gardens or to research that great flower you saw in the flower bed, container or exhibit. See how you might want to plan your trip around a special display or class that will be coming to the botanical center."

The photo below is from the Jenkins Daylily Garden, a sanctioned American Hemerocallis Society Display Garden, at the Missouri Botanical Gardens with over 2,000 specimens.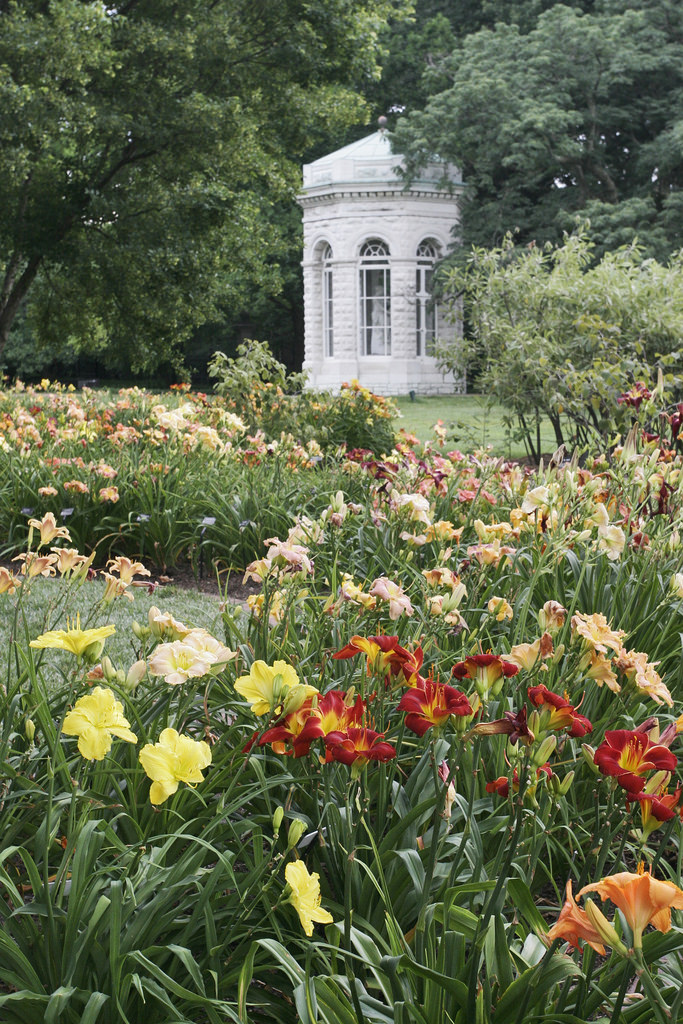 Here are the February meeting photos kindly provided by Lyle. Thank you, Nancy and Lyle, for a super afternoon!


First CVIDS Meeting in the New Year
Our first club meeting in 2017 took place on Saturday, January 14th, at the Coralville Public Library. It was a super meeting. The forty-four members in attendance were treated to two presentations, a business meeting, several door prizes, and a delicious spread of refreshments. AHS Region One's newly elected President and longtime CVIDS member Zora Ronan gave us an overview of the 2016 AHS awards. This was followed by a talk from Nancy Carlisle on information that can be gained from daylily scapes. During the business meeting, our new club president Keith Riewerts thanked Nancy for all that she did for CVIDS while serving as president and, on behalf of the membership, presented her with a Thank You gift. Susie Poulton was elected as club treasurer. Thanks go to Lyle for the photos of this fun meeting. Thanks to Susie for the Board Meeting Minutes and the Business Meeting Minutes.

Sad News
It is with much sadness that I must relay the news that Sanders, the young grandson of Lynn and Sherry Moffit and the great-nephew of Robert and Suzanne Moffit, lost his courageous battle against leukemia and passed away on Monday, January 30th, at the University Hospitals & Clinics. He was 4 years old. Our thoughts and prayers are with the Moffit Family. Please click here to access Sanders' obituary. Services celebrating Sanders' life took place on Saturday, February 4th, at the American Legion in Lone Tree with a visitation on Friday evening at the same location. In lieu of flowers, a memorial fund has been established.

Volunteers Needed for 2017 and Beyond
A big "Thank you" is extended to those members who signed up to volunteer at club events during 2016, but now we are on the lookout for volunteers for 2017 and beyond! As regards Board openings, Keith Riewerts has kindly agreed to serve as President (2017-2018), Joyce Parsons as Vice President (2017), and Susie Poulton as Secretary (2017-2018). As shown here, several chairpersons have been identified for the many events that will take place in 2017, but we are now looking for volunteers to assist them. Please sign up at the Spring club meetings or contact Keith Riewerts directly! Many hands make light work. Thank you!


Consider Contributing to the Newsletter or Website
Travel is the next best thing to gardening. If you find yourself visiting a garden this spring or summer, why not take a few pictures and write a short story about it to share with the club? We would love to publish your story in the Newsletter and/or on the website. Contact persons: Nancy Carlisle, Jonathan Poulton


CVIDS has its own Facebook Page!
In 2014, CVIDS decided to enter the world of Facebook, thanks to the behind-the-scenes work of Diann Pavelka. In the past two years, 45 folks have become members of the CVIDS Facebook gang. Maybe you'd like to participate in the fun? If you are already a Facebook user, please paste in the following URL:
https://www.facebook.com/groups/704051526282058/
If you are not, go ahead and create a Facebook account and then come join us.



2016 CVIDS EVENTS IN REVIEW

Dearly Departed
It is with great sadness that I must report that CVIDS lost four of its members during 2016, namely Harlan Pruess, Verne Moore, Susan Minger, and Doug Jones. Please visit our In Memoriam page for their obituaries and personal remembrances.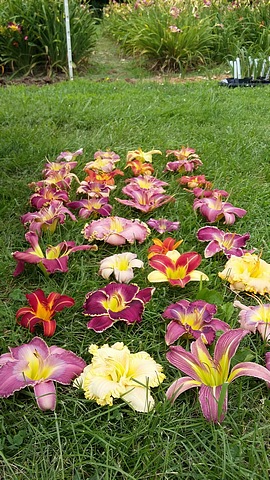 Message from AHS President Nikki Schmith
"I had so much fun during my visit and it was a great way to end my speaking tour for 2016! I'm looking forward to seeing you all again soon and I am so glad that you enjoyed the presentation. Happy New Year and I will see you again soon!"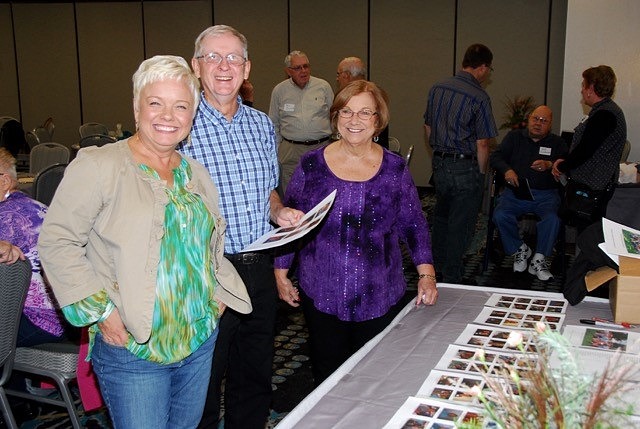 2016 Banquet and Betty Miller Photo Contest
Our 2016 Fall Banquet and Betty Miller Photo Contest were held at the Radisson Hotel in Coralville on Saturday, Novermber 12th. Over 80 members and guests were in attendance, and a fun time was had by all. Outgoing President Nancy Carlisle thanked the team of members who had worked so diligently to make these final events of the club calendar a great success. Our day began at 11 AM with the social hour, during which time folks had the opportunity to cast their ballots in the Betty Miller Photo Contest, buy and distribute raffle tickets, and proof-read the final draft of the 3rd edition of the "Meet the Members" photogallery. Then came lunch, and a very delicious one it was too. Thereafter, Keith Riewerts introduced our featured speaker Nikki Keeton Schmith, the AHS President, who gave us an exciting and extremely informative talk entitled "Join the Conversation: Technology as a Garden Tool". The meeting concluded with the announcement of the photo contest winners (names and photos to be posted ASAP) and a short business meeting, during which those in attendance unanimously elected Keith Reiwerts to be the club's new President (2017-2018) and Joyce Parsons to be Vice-President (2017). With a big round of applause, everyone thanked Nancy Carlisle for her excellent service as club president during the past two years. Below are some photos taken by Lyle Moen. Thank you, everyone, for a very memorable day!


Additional photos were taken by Keith Riewerts. For slideshow, please click here.

6th Annual CVIDS Hybridizers' Roundup
The 6th annual Hybriders' Roundup was held on Saturday, October 8th, at Marr Park Washington County Conservation Education Center, 2943 Highway 92, Ainsworth. Following a delicious potluck, six of our members (Doug Jones, Barb Papenhausen, Sue Kramer, Gerald Hobbs, Keith Riewerts, and Jonathan Poulton) showed us some of their latest daylily creations. Click on individual names to view presentations. Keith also kindly provided photos of the Marr Park venue and club meeting.
CVIDS Spring 2016 Plant Sale in May
We held our Daylily and Perennial Plant Sale on May 7th at the Discovery Park Gazebo at the Environmental Learning Center in Muscatine. The weather was overcast and at times a little cool, but business was booming, and members of the public and of CVIDS took advantage of the wide selection of daylilies and other perennial plants being offered at bargain prices. A big "Thank you" goes to all who donated plants and assisted in the sale. Thank you, Lyle, for taking photos that day.
Club Members Nan Ripley and Barbara McCreight Spoke at our April Meeting
Our last club meeting was held on Saturday, April 9th, at Muscatine's Environmental Learning Center. The 43 attendees enjoyed a potluck feast that made Jonathan think that Thanksgiving had come six months early this year. His exercise program started on the next day. The meeting began at 1 PM with Nan Ripley of Walkabout Gardens (Nevada, IA) telling her audience about the whys and hows of daylily hybridization before showing us some of her beautiful seedlings, introductions, and garden art. Afterwards, Barbara McCreight gave us an excellent 15-minute talk on "The pre-emergent that saved my garden", describing how she used Barricade to successfully suppress quack grass in her garden. The afternoon concluded with a short business meeting. The minutes for the afternoon can be accessed by clicking here.
Following Saturday's meeting, Nan sent CVIDS a letter of thanks, in which she wrote: "It was truly a pleasure to be in the company of such fun gardeners. Thank you for asking me to come and do my presentation, tailored for your club. I will post some pictures taken during the meeting on my Facebook page. If you have any questions you would like to ask me, please feel free to email me. If you as a group or individuals would like to come to visit our garden during late June & July, just email or call me. You may want to check out our 'new website' to see my introductions, as your club purchased plants from me for your event in May. We will be having a garden sale of daylily seedlings & daylilies along with a few other perennials; if you are interested, email me and I'll send you the dates. The website URL is: www.walkaboutgardens.com/ Wishing you all a wonderful rainbow spring & blooming summer!"

February 13 Club Meeting
Our second meeting of the year was held at the Johnson County Extension Office in Iowa City on February 13. Robert Towler was our main speaker with a fascinating talk on "Soil, Water, and Daylilies". Barb Papenhausen then gave a 15-minute presentation entitled "Digging the Hole" that guaranteed that we won't have any trouble planting our new purchases this spring. Forty-five members attended. Thank you, Lyle, for providing photos of the fun afternoon that we enjoyed. Thank you, Sara, for taking meeting minutes.

CVIDS Steps into 2016
Fifty-four members attended our first club meeting in 2016 on Saturday, January 16, at the Coralville Public Library. Zora Ronan gave two presentations on the 2015 AHS Awards and a preview of our 2016 Club Plants. President Nancy Carlisle presided over a business meeting. Meeting minutes may be accessed here. Many thanks to Lyle for submitting the photos shown below.