The Daylily Community Loses CVIDS Charter Member Gerald Hobbs
It is with the utmost sadness that I must inform you that our good friend Gerald Hobbs passed away at 4:21 PM on Saturday, May 18th, at the age of 90. The Hobbs family will meet with friends at 9:30-11 AM on Tuesday, May 21st, at the King-Lynk Funeral Home and Crematory, 3507 Avenue L, Fort Madison, IA. A Celebration of Life will be held at 11 AM at the funeral home. Burial will follow in Oakland Cemetery. Gerald's obituary can be accessed here. A memorial has been established in his memory, and online condolences may be left at: www.kinglynk.com.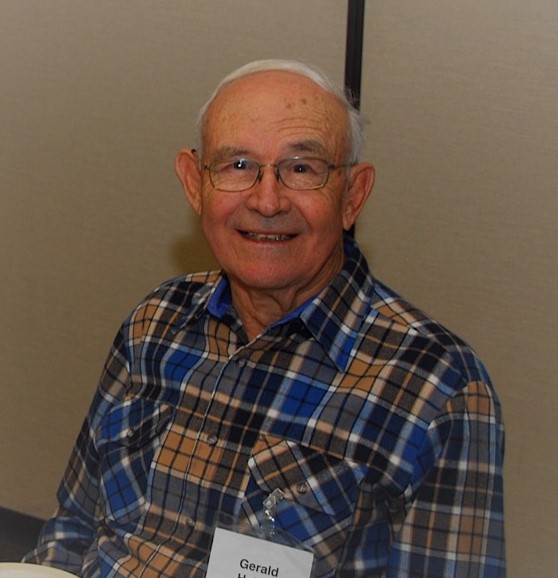 In recent years, daylily cultivation played a major part in Gerald's life. He was a charter member of the Cedar Valley Iris & Daylily Society, which he helped found in 1990. Gerald will be greatly missed not only by CVIDS members but also by daylily enthusiasts in the Midwest and nationwide. He was a prolific and gifted daylily hybridizer, registering over 50 new varieties that can be viewed at the American Hemerocallis Daylily Database. A wonderful and kind gentleman, Gerald was always happy to share his expertise with others. On behalf of CVIDS, I extend our sincere condolences to the Hobbs Family.

Review of CVIDS Spring Public Plant Sale
Our club's Spring Public Plant Sale took place on Saturday, May 11th, in the Discovery Park Pavilion of Muscatine Environmental Learning Center, Muscatine. Members were asked to bring daylilies, other plants, garden tools, garden clothing, etc. to sell at this sale. Set-up began at 8:00 AM, and the sale ran from 9:00 AM until almost noon. The Muscatine Garden Club and the Muscatine County Master Gardeners also sold plants, and the local 4-H club had a bake sale, provising coffee, hot chocolate, and a wide range of cookies. Despite the cool, damp weather, 32 CVIDS members were in attendance, and all the plants on the CVIDS tables were sold. Thanks go to Lyle for providing these photos. Three new members joined CVIDS. From Muscatine, they are Deb Howard, Karl Thielman and Ada Whitworth. Welcome aboard! We look forward to getting to know them at future club events.

AHS 2019 National Convention - Deadline for Registration is June 1st
The AHS 2019 National Convention – 'Blooms in Badgerland' – will be held in Madison-Middleton, WI, on July 10th-13th. The last day for registration ($339) is June 1st. You have been warned! Registration and other information can be accessed here.

CVIDS' May Newsletter has been Published
Please click here to access the May Newsletter. Many thanks go to our editors Nancy Rash and Lyle Moen.
Welcome to CVIDS!
On behalf of the entire membership, I'd like to welcome eight new members to CVIDS. They are Cindy Bottrell (Bettendorf), Jerry Eckrich (Camanche), Trisha Elliott (Camanche), Betty Fyffe (Muscatine), Dale Johnson (Vinton), Sara Kelley (Central City, IA), Lori Marshall (Iowa City, IA) and Sylvia Popelka (Cedar Rapids, IA). Please introduce yourselves to them at upcoming meetings.

Looking for a New CVIDS Webmaster - A Note from Jonathan
In 2008, my son Christopher helped me set up this website. Since then, I've spent countless hours working with patient contributors to provide up-to-date information about our club's activities. I'm not entirely sure what the next few years will bring but do feel that it is time for someone else to take over as webmaster. I intend to resign on June 30th but would be happy to work with my replacement during the next few months. Thank you for allowing me to serve as your webmaster. It's been a lot of fun! I've enjoyed serving you and have learned much about website design. Please contact Nancy Rash or me if you'd be interested to take over the website. Thank you!

Fifty-two Members Attended our CVIDS' April Meeting in Washington!
Our April CVIDS meeting was held on a beautiful sunny day at Washington Public Library on Saturday, April 13th. Fifty-two members were in attendance. Before our social hour and potluck, Keith Riewerts circulated a list of volunteers for the 2020 Regional Meeting that CVIDS is hosting. For more details, please see the post below. Many thanks to all who contributed to a delicious lunch.

After President Nancy Rash's words of welcome to new and longtime club members, Diann Pavelka and Barb Papenhausen gave us PowerPoint presentations of the fabulous iris and daylily club plants that they have ordered on our behalf. Keith Riewerts and Diane Derganz then talked on "My CVIDS Club Plants: Caring for the Most Important Plants in my Garden". Topics included best locations for daylily growth, how to plant lilies, watering, how to dig daylilies and wash roots, and evaluating daylilies. A short business meeting concluded the afternoon's proceedings. The meeting minutes can be accessed here. Thanks for the photos, Lyle.
In July 2020, it's CVIDS' Turn.......
......to host the Summer Regional Meeting for Region One of the American Hemerocallis Society (now known as the American Daylily Society. Yes, that name change snuck on me too!). The last time we did that was in 2012. Our slogan for next year's meeting will be "2020 - A Perfect Daylily Vision". Keith Riewerts and Nancy Rash have agreed to serve as Chair. What has become abundantly clear is that a tremendous amount of planning and hard work goes into organizing a first-rate Regional Meeting. Many volunteers have already signed on to help with various aspects of this event - thank you so much for doing so - but Keith is looking for additional CVIDS volunteers to help spread the load a bit. Please take a look at the current list and, if you find a task that is right up your alley, please contact Keith and offer to volunteer. Thank you for considering this plea for help.

Looking Forward to "Fireworks in the Gardens" in July 2019
Members of the Nebraska Daylily Society (NDS) invite you to join them on Friday, July 5th through Sunday, July 7th, in Omaha, Nebraska, for the 2019 AHS Region One Meeting. Guest speakers are hybridizers Charles and Heidi Douglas of Browns Ferry Gardens of Georgetown, SC. Browns Ferry Gardens was a 2018 AHS National Convention tour garden. Charles and Heidi will present their programs on Saturday evening following the banquet.

The host hotel is the Marriott Hotel, 10220 Regency Circle, Omaha, NE 68114-3706, (402-399-9000). Mention "Nebraska Daylily Society" to get the reservation group rate of $106 per night. Your registration includes the bus tour and four meals: Friday banquet, Saturday breakfast, Saturday lunch at Keast Daylily Gardens, and Saturday banquet. Guest meals for Friday banquet and/or Saturday banquet and/or Saturday breakfast are also available. Please see the registration form for details and fees. For your convenience, this form has fillable fields, so that you can use your computer keyboard to type in your information - no handwriting is necessary!
Four large tour gardens and five lovely open gardens await you. Three tour gardens and all of the open gardens belong to hybridizers, so in addition to seeing the latest and greatest well-known daylilies, you will meet several "new to you" daylily introductions and seedlings from our very own metro-area hybridizers. To supplement all the beautiful daylilies in the four tour gardens, NDS gave each tour garden funds to purchase a collection of daylily club plants from the hybridizer of their choice (to be auctioned off during a future NDS meeting).

GARDENS ON SATURDAY'S BUS TOUR:
• Keast Daylily Gardens (Oakland, Iowa) Tom & Mary Keast—Jamie Gossard club plant collection
• McIntosh Daylily Place (Omaha) Phyllis McIntosh—Charles & Heidi Douglas club plant collection
• Daylilies on the Fritz (Cedar Creek, Nebraska) Lyle & Rita Kahnk—Paul Owen club plant collection
• Farmony Gardens (Omaha) Nancy Lee Anderson—Richard Norris club plant collection

OPEN GARDENS ON FRIDAY AND SUNDAY:
• Mary Baker's Garden (Omaha) Mary & Rich Baker
• Hansen's Daylily Haven (Papillion, Nebraska) Dave & Val Jean Hansen
• Ferguson Fantasy Flowers (Omaha) Scott & Linda Ferguson
• Doug Bremers' Garden (Omaha) Doug Bremers
• Bob & Joanne Langabee's Garden (Bellevue, Nebraska) Bob & Joanne Langabee

The Region One Daylily Auction begins on Friday evening at 7:00 pm, and credit cards will be accepted. Shop our Bargain Table for outstanding daylily buys on Friday and Saturday (see the registration form for bargain table hours). Region One garden owners, please donate daylilies for the auction and bargain table! Auction Plant Chair is Mark Langemeier (mbacr5@hotmail.com) and Bargain Table Chair is Susanne Milbourn (srmilbourn@hotmail.com).

Nan Ripley will chair and instruct Garden Judges Workshop 1 on Friday from 1:00 pm to 3:00 pm at the hotel. Nan Ripley will also chair and instruct Garden Judges Workshop 2 from 9:00 am to 11:00 am on Sunday at McIntosh Daylily Place (outdoor restroom facilities will be available). But wait—there's more! On Friday from 4:00 pm until 5:00 pm, Doug Bremers will host the Region One Hybridizers Slide Presentations. See the latest, greatest daylily creations from our very own hybridizers!

Questions? Contact our 2019 AHS Region One Meeting Chair, RP Val Hoefer (hoefrv@gmail.com) or Registrar Leslie Rule (Leslie1967.2003@gmail.com).

Celebrate daylilies with NDS in Omaha on July 5th-7th. Visit with friends and meet new ones while we all enjoy beautiful daylily "Fireworks in the Gardens"—don't let the only thing missing be you!

Invitation to Region One Hybridizers
The Cedar Valley Iris & Daylily Society will be hosting the 2020 Regional in Cedar Rapids, Iowa. We will have places to display registered guest plants and also seedlings being considered for Junior Citation awards. We would be delighted to display your plants. The gardens available for displaying guest plants will be the gardens of Shelly & Darrin Lett and Sue & Dave Kramer. For those of you who would like to have your introductions and seedlings on display for the 2020 Regional, we would like to receive the plants this spring so they will be well established for the 2020 bloom season. Please contact Sue Kramer if you are planning to participate. Her contact information is: 319-396-3429, E-mail: iowala@aol.com. Thank you!

CIDS 2019 Schedule of Events
The Central Iowa Daylily Society has just released its 2019 meeting schedule. I noticed that two of our CVIDS members will be speaking in Marshalltown this year. Please note that Pollen Dabbers has been moved to the fall this year and will take place on September 13th-14th. Always a very fun and informative event!
April 2019 CVIDS Newsletter
If you'd like to access the April 2019 Newsletter, please click here. Thank you, Nancy and Lyle!

Shirley Waters Passes Away
I am sorry to inform you that longtime CVIDS member Shirley Waters of Moline, IL, passed away on Monday, March 25th, at the age of 70. Funeral services were held on Friday, March 29th, at Holy Cross Lutheran Church, Moline, and she was buried at the National Cemetery, Rock Island Arsenal. Memorials may be made to the church. Shirley was a keen daylily enthusiast and always great fun to be around. She was a CVIDS member during 2003-2017. Her obituary can be accessed here. We shall miss her.

Shirley Waters (photo courtesy of Keith Riewerts)
2019 Dues are Due!
If you haven't paid your CVIDS 2019 membership dues yet, they are due at the amazing cost of $10 per person. Please send them to Susie Poulton (Membership Committee) at 729 Alpine Drive, Iowa City, IA 52245. Dues must be paid by April 1st to be eligible for a club plant next year.
Our CVIDS' March Meeting in a Nutshell!
This meeting took place on Saturday, March 9th, at the parish hall of St. Mary's Catholic Church in Williamsburg. Twenty-seven members attended. At 11 am, Keith Riewerts hosted the second of our 2020 Regional Organizational Meetings. Next came the potluck lunch and social hour. At 1 PM, Keith presented a 15-minute talk titled "Looking Ahead to the 2020 Regional" and then came the main event, a talk by Sue Kramer on "Spring Bulbs". Click here to access her presentation. Thank you, Sue, for being our speaker that day.

| | |
| --- | --- |
| | |
The afternoon concluded with a short business meeting. Meeting minutes can be accessed here. Thanks, Lyle, for the photos.

March 2019 CVIDS Newsletter
If you'd like to access the March 2019 Newsletter, click here. Thank you, Nancy and Lyle!

What Happened in Eldridge Doesn't Just Have to Stay in Eldridge.........Here's What Really Happened!
Our February CVIDS Meeting took place at the Scott County Library in Eldridge on the 9th! The weather was good for traveling, most of the roads likewise, and 51 souls made it safely to the library. It was wonderful to see everyone and catch up with their news. A special delight was to see Myrna Hass after her several months of sickness.

From 11:15 AM until noon, Keith Riewerts brought volunteers up to speed on what all is involved in organizing the 2020 Region One Summer Meeting. Minutes from this meeting and from the business meeting later in the day can be read here. The next organizational meeting will take place at 11 AM on March 9th.

The lunchtime spread was delicious! Thanks to all who contributed to a super meal.

After lunch, our new club president Nancy Rash invited Jonathan Poulton to deliver a Powerpoint presentation that hopefully encouraged members to register for the 2019 Region One Summer Meeting in Omaha and/or the AHS National Convention in Madison. He has adapted this presentation allowing you to access it here. If you have any questions, please contact him.
The next presentation of the afternoon came from Barb Papenhausen who gave us an Powerpoint overview of the 2019 club plants that she has ordered for us. Just beautiful! She has gone to great lengths to order double fans only and Polar Vortex-proof cultivars! Thank you, Barb! Her Powerpoint presentation is available here. This presentation will be updated as Barb hears back from the last hybridizers.
The final presentation came from Lyle Moen. It featured absolutely stunning photography of Nancy and Lyle's 51-day trip across Canada. Thank you for sharing with us. The afternoon concluded with a short business meeting (for minutes, click here). The afternoon was a fabulous start to our club's 2019 activities, and it was great to see old friends! Hope to see you at our March 9th meeting.

| | | |
| --- | --- | --- |
| | | Photos courtesy of Lyle Moen |

Have you Read the February Newsletter Yet?
The February Newsletter was sent to you last week by email and US mail and has been posted here too. Thank you, Nancy and Lyle, for all your work!

Longtime CVIDS Member Passes Away
On January 16th, Jonathan received word from Lisa Kramer, the daughter of longtime CVIDS member Don Erling, that Don passed away on October 23rd, 2018, at age 85 and was laid to rest on October 27th in Clinton, IA. Don belonged to CVIDS since 2007 and was also a Master Gardener. His obituary can be accessed at Pape Funeral & Cremation Services, Clinton.
Testing our Bad Weather Policy
When our club's bad weather policy was reviewed in the January 2019 Newsletter, little did we think that it would be tested within a matter of a few days! In the days heading up to our January 12th meeting, at which members were looking forward to meeting each other, exchange New Year's greetings, and listen to Nancy and Lyle's presentation about their trip across Canada, weather forecasters were describing dismal and then dangerous driving conditions for that day. After President Nancy and Jonathan had discussed the developing situation, Jonathan sent out a "heads-up" announcement to the membership on Friday evening via e-mail, this website, and our Facebook page. By 7 AM Saturday morning, Iowa City had received about 1-2 inches snow, and there was a winter weather advisory for Johnson County until 9 PM that night with more snow and freezing rain expected. Slippery conditions for driving had been reported, and the warning had been issued that "one shouldn't drive unless one has to". Nancy and Jonathan decided to cancel the meeting. This decision was relayed to the membership by 8 AM via the three mechanisms listed above. In addition, within a short period of time, those members that don't have internet access had been alerted by telephone. Our thanks go to those "internet buddies" who relayed the cancelation news by phone. To our knowledge, everyone who had intended to attend the Iowa City meeting were alerted in good time. Indeed, Jonathan received thanks from one member because the alert reached her before she put her casserole in the oven!

First 2019 Edition of CVIDS Newsletter
A big Thank You goes to our new club president Nancy Rash and co-editor Lyle Moen for penning the January 2019 edition of our CVIDS Newsletter. Here you will find the latest information about our next meetings as well as personal introductions to two of our newest members.